Photo Gallery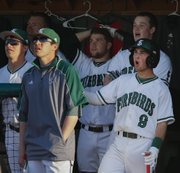 Free State baseball v. Shawnee Mission West
Images from Thursday night's baseball game between the Firebirds and Vikings at Free State High School.
The Free State baseball team scored early and often on its way to a 12-2 victory in five innings against Shawnee Mission West, Thursday at FSHS.
The Firebirds batted around in the first, plating six runs in the opening frame. The early offensive surge was an encouraging sign to Free State coach Mike Hill.
"What is interesting is that we've been playing from behind all year. In the three losses we have, if memory serves, with the exception of one inning we've been behind in all innings, all frames," Hill said. "Even in a couple of our wins, we've been behind. ... To play ahead is a little shot in the arm for the kids."
The Firebirds' first frame was highlighted by a Ty Walmsley two-RBI ground-rule double to right, which scored Jon Saathoff and Casey Hearnen. Walmsley added two singles to go 3-for-3 on the day.
"It just felt like everything was going my way today," Walmsley said. "It feels good and it built my confidence up to feel good about going into the next game."
Before scoring on Walmsley's double, Hearnen also had an RBI single to support his own cause. As Free State's starting pitcher, Hearnen nearly went the distance, striking out seven and only allowing four hits over 4 2/3 innings.
"It's really easy as a pitcher to go in with a six-run lead in the second inning," Hearnen said. "It takes all the pressure off and you just have to throw strikes. That's what we did for three or four innings there, and towards the end, I had trouble finding the zone."
To go along with striking out seven batters, Hearnen walked six Vikings, plunking two of them. Hearnen was able to pitch around those walks, though, and limit the damage whenever he found himself in a jam.
"We had great plays out in the field that kept those runners from scoring," Hearnen said. "Coach came out and talked to me a couple of times. He wanted to challenge me to go right at the batter there towards the end. That's what I did and my defense made great plays for me."
Another key component to the Firebirds' success offensively was their aggressiveness on the bases.
In the first, Cooper Karlin was caught in a pickle between third and home, but snuck around the tag of Vikings' catcher Michael Hall to score the game's first run. The Firebirds' speed on the bases also had Vikings' starter Jacob Slyvester uncomfortable on the mound, and it resulted in a balk to score Zach Bickling from third. Slyvester did catch the Firebirds getting greedy, though, and picked off Ryan Cantrell trying to steal second, but the FSHS No. 9 hitter stayed in a rundown long enough to allow Walmsley to score from third.
Free State continued to take advantage of SM West miscues in the second and third, scoring two runs on wild pitches and another on a dropped pop-up.
FSHS wrapped up the mercy-rule victory with a three-run fourth. Cantrell hit a sacrifice fly to center, and Joel Spain followed with a two-RBI single. Spain returned to the lead-off spot in the Firebirds' lineup after recovering from an elbow injury.
"We've been injured and haven't been healthy," Hill said. "We're still not as healthy as we want to be."
The Firebirds (4-3 overall, 1-2 in Sunflower League play) will hit the road Tuesday against Leavenworth. First pitch is scheduled for 5:30 p.m.
---
SMW 000 11 — 2 4 1
FSHS 612 3X — 12 9 0
W – Casey Hearnen. L – Jacob Slyvester.
2B – Ty Walmsley.
FSHS highlights – Ty Walmsley, 3-for-3, double, 2 RBIs, SB; Joel Spain, 1-for-3, 2 RBIs; Cooper Karlin, 1-for-3, 2 runs; Jon Saathoff, 2-for-2, 2 runs, SB; Casey Hearnen, 1-for-2 RBI, run scored, 4.2 innings pitched, 7 Ks, 6 BBs, 4 hits, 2 runs allowed.
Copyright 2018 The Lawrence Journal-World. All rights reserved. This material may not be published, broadcast, rewritten or redistributed. We strive to uphold our values for every story published.