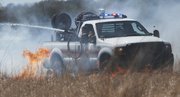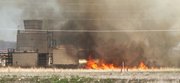 Lawrence-Douglas County Fire Medical and several other area fire departments battled a grass fire that encroached upon two phosphorus tanks at a chemical plant north of the city on Friday.
ICL Performance Products, 448 North Ninth St., reported a grass fire at 12:51 p.m., according to a fire-medical spokeswoman. The call was soon upgraded to a structure fire because it threatened phosphorus tanks at the plant, which produces chemicals for fertilizers and other products.
Lawrence police assisted in blocking off nearby streets and redirecting traffic. Wakarusa, Lecompton, Kanwaka and Eudora fire departments joined Lawrence firefighters, and the plant also has its own emergency response team.
Just after 1:30 p.m., firefighters controlled the grass fire on the south side of the plant, which produced thick plumes of smoke and high flames and threatened the plant's tanks, which contained flammable chemicals. Many of the area fire department personnel who provided assistance left the scene by 2 p.m. Late Friday afternoon, Lawrence-Douglas County Fire Medical remained on scene to investigate and control a smaller fire north of the plant.
Late Friday afternoon, Division Chief Eve Tolefree said a cause had not yet been determined and that there were no injuries to anyone fighting the blaze. Tolefree said minor damages to the storage containers were being assessed by ICL but an ICL spokesperson could not be reached for comment.
Copyright 2018 The Lawrence Journal-World. All rights reserved. This material may not be published, broadcast, rewritten or redistributed. We strive to uphold our values for every story published.