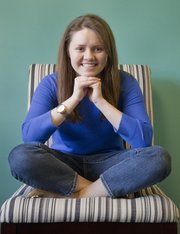 Community breakfast
The Lawrence-Douglas County Health Department will recognize Ellen Young and Logan Brown as the 2014 Douglas County Health Champions during a community breakfast Friday from 7:30 a.m. to 8:30 a.m. at the Community Health Facility, 200 Maine St.
The event is open to the public and is part of the health department's celebration of National Public Health Week. The keynote speaker will be Lawrence resident Michel Loomis, who has been recognized locally and by the state of Kansas for her efforts to improve health among youth.
Even as a middle schooler, Logan Brown knew she wanted to be a lawyer.
To see what the legal profession was truly like, she sat in on a jury trial in Douglas County. She quickly realized that real life was a lot different than "Law and Order" or "Legally Blonde."
She also saw staffers from the Lawrence-based rape crisis organization GaDuGi SafeCenter in action. In fitting with her outgoing personality, she stopped by the nonprofit's office to find out more about it.
Brown, a senior at Lawrence's Free State High School, has volunteered there ever since, even starting an annual fundraiser for the center that raised more than $20,000 in its first three years. Her efforts helped earn her the 2014 Douglas County Youth Health Champion Award, given annually by the Lawrence-Douglas County Health Department as part of National Public Health Week. She will receive the recognition at a community breakfast Friday morning.
"Logan Brown gives me hope for a better tomorrow," GaDuGi SafeCenter executive director Chrissy Heilkilla wrote in nominating Brown for the award. Heikilla predicts the Eudora teen will be the U.S. solicitor general by 2030.
Brown, 18, aims high. She wants to be a federal prosecutor, get involved in politics and, yes, become solicitor general. Her ultimate goal, she said, is figuring out "how to fix social problems at a more systemic level."
She plans to attend Vanderbilt University in the fall. First, she intends to continue volunteering at the local sexual violence crisis center through the summer.
An interest in criminal justice showed Brown the importance of organizations like GaDuGi SafeCenter, whose work, she says, "brings light to such a dark time." Brown saw the impact the nonprofit had in the court system, where it advocates for victims; in local schools, where it teaches students about sexual abuse; and at local bars, which it shows how to prevent sexual violence.
"It's really been a life-changing opportunity to see how much GaDuGi has been able to help the community," she said.
To provide GaDuGi SafeCenter with more resources, Brown came up with the idea for the Shoppin' for Survivors silent auction fundraiser. She does everything from getting the products from local businesses to marketing to coordinating volunteers.
"I hate it when people talk about how the youth are the future when we have people like Logan who are doing things now," said Rachel Gadd-Nelson, director of community outreach for GaDuGi SafeCenter. She added that the funds raised by the teen "keep our lights on and our phones running."
Brown credits the Lawrence community with imbuing her with a spirit of volunteerism.
"I'm just very grateful to grow up in Lawrence with all for the opportunities for volunteering," she said. "I've never been told I couldn't volunteer somewhere because of my age."
Copyright 2018 The Lawrence Journal-World. All rights reserved. This material may not be published, broadcast, rewritten or redistributed. We strive to uphold our values for every story published.