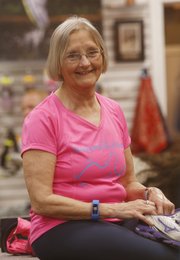 Community breakfast
The Lawrence-Douglas County Health Department will recognize Ellen Young and Logan Brown as the 2014 Douglas County Health Champions during a community breakfast Friday from 7:30 a.m. to 8:30 a.m. at the Community Health Facility, 200 Maine St.
The event is open to the public and is part of the health department's celebration of National Public Health Week. The keynote speaker will be Lawrence resident Michel Loomis, who has been recognized locally and by the state of Kansas for her efforts to improve health among youth.
Ellen Young saw the positive impact running had on her life. And she wanted to share those benefits with the world.
The Lawrence woman's efforts to make running as nonintimidating as possible for others helped earn her the 2014 Douglas County Health Champion Award, given annually by the Lawrence-Douglas County Health Department as part of National Public Health Week. She will receive the award at a community breakfast Friday morning.
As someone who didn't grow up in a family of athletes, Young got into fitness later in life. In the mid-1990s, Young, who was overweight at the time, chaperoned one of her daughter's school field trips and noticed the difference all that walking did for her health.
She kept it up, even though it was difficult at first. She couldn't run from one driveway to another without losing her breath. A quarter-mile was a challenge. But running eventually helped Young develop another important trait: persistence. Exercise got easier and easier the more she did it.
Her running partners quickly became like family. She found comfort in fellow members of the Red Dog's Dog Days running group following the death of her husband in 2004. "That was a stressful time in my life, but running kept me sane," she says. "Dog Days were my support group."
Young got the inspiration for starting her own club after selling shoes part time at Gary Gribble's Running Sports. The manager and owner encouraged her to have conversations with customers: find out about their running history, their goals, their fears. She realized that a lot of people wanted to start running but were intimated by it.
So, in 2011, she founded the Running for the Hill of It club (which meets every Monday at 6 p.m. in front of Gary Gribble's Running Sports, 839 Massachusetts St.)
In the group, no one gets left behind — literally. If someone isn't keeping up, Young will slow down, and run at that person's pace. To build confidence, she celebrates group members' milestones: a first 5K, a first marathon. She promotes positive encouragement, even toward the terrain. "When you get to the top of the hill you should turn around and say, 'Thank you, hill. You gave me the strength and endurance to be able to run better,'" she says.
Young, 60, simply wants to provide a fun, safe, noncompetitive environment so women (and men) can enjoy running. And the community has responded: The club now has several dozen members, ranging from 20-somethings to septuagenarians.
Now that running has become such a big part of Young's life, how many years does she plan to keep doing it?
"I'm going to run as long as I'm capable," says Young, whose office at work has a wall decoration with a C.S. Lewis quote: "You are never too old to set another goal or dream a new dream." "I want to run till I'm 80 and 90."
Copyright 2018 The Lawrence Journal-World. All rights reserved. This material may not be published, broadcast, rewritten or redistributed. We strive to uphold our values for every story published.