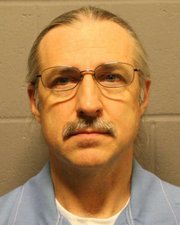 A man awaiting a retrial of a 2004 murder case bonded out of Douglas County Jail on Wednesday.
Martin K. Miller, 55, was released before noon Wednesday. Miller had been held on a $250,000 bond since being transferred from Lansing on March 19.
Miller's murder conviction was overturned on Feb. 14 based on an incorrect jury instruction. He had been sentenced in 2005 to 25 years to life in prison for the July 2004 death of his 46-year-old wife, Mary Miller, but the Kansas Supreme Court said that the written jury instruction District Judge Paula Martin gave jurors had been in error.
Miller is scheduled to return to court on May 1 to schedule a new trial date. During a March 27 court appearance, Miller's attorney said Miller would arrange to live with his wife, Laura Cuthbertson, and her father at a home in Paola. Miller and Cuthbertson married while Miller was in prison in 2006.
Copyright 2018 The Lawrence Journal-World. All rights reserved. This material may not be published, broadcast, rewritten or redistributed. We strive to uphold our values for every story published.