About this story
Micki Chestnut is communications director for the United Way of Douglas County, which provides occasional features spotlighting local volunteers and charities supported by the United Way.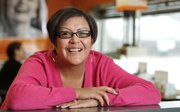 A 16-year career in banking has taught America Almaraz to not be afraid to ask tough questions and to do the hard work of continually improving processes so you can achieve better results. Now Almaraz is excited to use the skills and insights she's honed as the store manager for the Peoples Bank branch on 31st and Iowa streets to help kids in Douglas County succeed in school.
Almaraz has skin in the game. As an employer, she needs a well-educated workforce from which to hire and employees who have the training they need to do their jobs well. As the mom of a 7th grader at South Junior High, she wants to make sure her daughter receives the education and support she needs to succeed in her own career one day.
So Almaraz raised her hand to serve as a program accountability volunteer for the education goal workgroup of the United Way of Douglas County. She is part of a diverse team of education professionals, social service providers, business people and other community volunteers who monitor the progress United Way community partners are making toward ensuring children enter kindergarten ready to learn and 4th and 5th grade students are proficient in math and reading. Similar workgroups meet to review the progress being made by United Way community partners in the community goals of self sufficiency and health.
"I like to be a problem solver; I want to know the 'why' of why something is done this way and not that," Almaraz said. She is especially interested in being a part of United Way's efforts to challenge its community partners to work together more efficiently to avoid duplication and achieve greater, measurable results, using limited resources.
"If someone was coming to me and saying, 'We want to change things so you can work with other organizations and help more people,' I would want to support that. Agencies need to focus on the fact that everyone has the same goal of helping the community, so everyone needs to work together," she said.
Almaraz is no stranger to working on improving educational achievement in Douglas County. A longtime volunteer for Lawrence Public Schools, Almaraz has been on the site council for Prairie Park Elementary for five years and is a member of the South Junior High School Cougar Parent Organization.
But she wasn't aware of the opportunity to serve students, and the community, in this unique way until Peoples Bank selected United Way as its Peoples Partner in 2013. That's when she learned how extensively United Way was involved in supporting myriad initiatives in Douglas County that address the challenges that keep residents from achieving education, health and self sufficiency.
"I didn't understand the scope of what United Way does," she explained. "I've learned that United Way is doing a whole lot more than just cutting a check to an organization."
"Our community has identified education as one of its top goals," said Erika Dvorske, president and CEO of the United Way of Douglas County. "The challenges around ensuring children succeed in school are complex, so we are bringing people from different sectors of our community into the discussion. The program accountability volunteers like America are essential for planning, implementing and evaluating the progress of our collective efforts in education."
Copyright 2018 The Lawrence Journal-World. All rights reserved. This material may not be published, broadcast, rewritten or redistributed. We strive to uphold our values for every story published.