Photo Gallery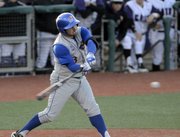 KU-KSU Friday baseball
Manhattan — With starting pitcher Wes Benjamin scratched because of an arm injury, Kansas University baseball coach Ritch Price rolled the dice on Friday afternoon against Kansas State.
Instead of replacing Benjamin with another regular starter, Price gave the ball to former closer Jordan Piche', who made the first start of his Kansas career.
It didn't go so well.
Piche', who was dominant at the back end of games throughout the 2013 season, was roughed up for five runs and four hits in the bottom of the first, setting the tone for a 10-0 defeat. Price called the Jayhawks' loss to the Wildcats "clearly our worst performance of the year in every phase of the game."
Asked how he felt heading out to the mound for the first inning instead of the ninth, Piche' made no attempt to hide from his rough outing.
"It had been a little while," Piche' said of his last start, two years ago with Indian Hills Community College. "But you've still gotta throw the ball. Nothing changes from that standpoint. I felt good going in but I didn't execute pitches very well, got behind in the count and they really stuck it to me."
After giving up five in the first, including a three-run home run to K-State catcher Tanner DeVinny, Piche' settled in and gave up just two runs and three hits during the next four innings.
That was the guy Price had hoped to see all night and, after the game, the KU coach explained his decision to start Piche'.
"I really felt like I needed to run somebody out here on Friday night that had experience, was an upperclassman and could pitch in this environment," Price said. "I was obviously hoping he could give us five innings and hold 'em to three runs or less, but they got after him pretty good in the first inning."
By the time he exited after the fifth inning, Piche' had given up eight hits, seven earned runs, walked three and struck out five.
The senior closer's confidence has been trending downward for a while now, but Price said he has faith in the guy who led the Big 12 in saves a year ago.
"There's no sugar-coating it," Price said. "I could sit here and say all the politically correct things, but that's not reality. The reality is I need him to walk back onto that mound with the swagger that he had a year ago and he's had his whole life. It'll just take one good outing."
Even if Piche' had performed better on Friday, it might not have mattered. KU (19-11 overall, 3-4 Big 12) mustered just three hits and did not have a batter reach base until first baseman Ryan Pidhaichuk led off the sixth with a sharp single. Connor McKay's single in the seventh and Michael Suiter's base hit in the ninth were the only other highlights for the KU offense.
"We've been playing so good," Price said. "I'm shocked with how bad our performance was offensively."
The shutout victory was the 17th all-time in the series for the Wildcats (18-11, 2-2), the first since May of 2012 and the largest since April of 1969, when KSU also won 10-0.
The series resumes at 2 p.m. today at Tointon Stadium.
---
Kansas 000 000 000 — 0 3 0
Kansas State 500 111 02X — 10 10 0
W – Levi MaVorhis (4-3), L – Jordan Piche' (4-3).
HR: Tanner DeVinny, KSU; Shane Conlon, KSU.
KU Highlights: Jon Hander 1 IP, 0 H, 1 ER; Hayden Edwards 0.2 IP, 1 H, 0 ER, 1 K; Colin Toalson 1.1 IP 1 H, 2 ER, 1 K; Michael Suiter 1-for-4; Connor McKay 1-for-3; Ryan Pidhaichuk 1-for-3.
Copyright 2018 The Lawrence Journal-World. All rights reserved. This material may not be published, broadcast, rewritten or redistributed. We strive to uphold our values for every story published.