Photo Gallery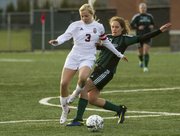 LHS-Barstow girls soccer
Lawrence High's girls soccer players didn't get to feel good about some late-game heroics very long Friday night.
Shortly after Lions sophomore Kennedi Wright-Conklin tied the game in the 78th minute to force overtime against Barstow, Mo., a defensive breakdown — a recurring issue — allowed the Knights' Jeanne Brown to score the golden goal in a 3-2 Knights victory.
In just the second minute of overtime, Barstow's Bailey Childers fired a shot at LHS goalkeeper Alex Ewy, who knocked the ball away for her seventh save. However, Brown saw no resistance on the right side as she secured the rebound and easily put away the game-winner.
"One of our defenders just completely lost the fact that (Brown) was there," frustrated Lawrence coach Justin Young said afterward.
On all three of the Knights' goals, a Lions defender took a bad angle or failed to get in position. Young said LHS set a dangerous precedent defensively from the opening minutes, with defenders playing unaware of their surroundings.
"Runs were being made through the middle," Young said. "They couldn't identify quickly that (Barstow) had a girl up top who was fast and they could easily just step back and defend her simply. They over-complicated the situation for themselves."
Lions senior forward Addison Campbell, who put her team up 1-0 in the first half with a goal in the 17th minute, said Lawrence (2-1) had been playing with fire.
"I think it kind of stung us a little bit," she said of the loss, "because we did win the first two games with a lot of mistakes. We thought we could just come in here and make mistakes and win. I think it was good for us, but it really sucked."
Lawrence seemed to have the momentum in the first half, with juniors Sadie Keller and Cortlynn Stark and freshman Skylar Drum taking strong shots at the goal. Campbell, junior Keeli Billings, sophomore Micaela Riley, Drum and Keller all had quality looks in the second half, too.
As maddening as it was to keep misfiring, Campbell said, the Lions didn't have the proper response when Wright-Conklin tied the game late.
"Finally, when one went in we were so relieved," she said. "It definitely boosted our confidence. But I think it excited some people too much, and they didn't realize that we were still in a game."
Copyright 2018 The Lawrence Journal-World. All rights reserved. This material may not be published, broadcast, rewritten or redistributed. We strive to uphold our values for every story published.