LHS holds tribute to former player Sanders
Lawrence High's baseball team held a moment of silence before its home-opener Thursday in memory of Travis Sanders, a former player who died in a car accident last October.
Sanders' parents and former teammates were in attendance, along with many others who knew him. The Lions put a black patch on their right sleeves with his initials and jersey number and also hung a No. 1 jersey, Sanders' old number, in the dugout.
"He was one of my all-time favorites," LHS coach Brad Stoll said. "(His picture) hangs up in coach (Adam) Green and I's office. I look at his picture every day, and so to have that little moment for him and to have the patches on our sleeves for the rest of the season is really an important piece of our program."
Several of Sanders' old teammates wrote a letter to the current members of the baseball team to describe what kind of player and person he was. Sanders, who played football and baseball at LHS before he graduated in 2008, spoke each year to LHS baseball team. He also played baseball for two years at Pratt Community College.
"Today was a special day for all of us. Representing Travis was a big deal for us and gave us a little momentum," senior pitcher Brandon Bell said.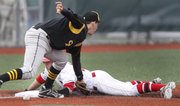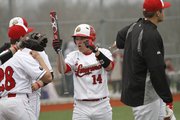 Every player on Lawrence High's baseball team is confident in ace pitcher Brandon Bell.
The 6-foot-2 senior right-hander didn't disappoint on Thursday at LHS.
Shawnee Mission West hitters couldn't keep up with Bell's fastball and were fooled by his offspeed pitches. Senior Jacob Seratte added a two-run single in the third inning, and that's all the Lions needed to win their Sunflower League and home opener, 2-0.

Bell tossed a complete-game shutout, allowing just six hits and striking out seven. After a rough outing in the first game of the season, Bell has started the last two games and struck out 14 in 12 scoreless innings.
"It's kind of what we've come to expect from the kid," LHS coach Brad Stoll said. "He just pounds the zone, and everything is between the kneecap and the thighs. He's just very effective. His slider had some really good tilt to it today."
In the third inning, junior Michael Sinks and senior Drew Green hit back-to-back two-out singles against SM West starter Jacob Sylvester. After an error extended the inning and loaded the bases, Seratte hit a first-pitch fastball back up the middle, past a diving shortstop into center field, for a two-run single.
"I thought I hit it hard enough, and they weren't really pinching the middle," said Seratte, who had little doubt that he was going to drive in a run once he hit the ball. "I thought I had a good shot."
LHS (3-1, 1-0 Sunflower League) stranded 10 runners, but the two runs were enough for Bell, who mixed his fastball, slider and changeup to keep SM West hitters off balance.
"They came out aggressive so (on) his first pitches he beat up the zone, kept it down today," said catcher Green, who went 1-for-2. "He forced them to hit some grounders and got some easy outs."
The Vikings (2-1, 0-1) loaded the bases with one out in the top of the sixth inning through a walk and two singles. After a mound visit from pitching coach Mike Dudley, Bell escaped the jam by fielding a comebacker. Instead of going home for an easy force out, he tossed to second baseman Brad Kincaid, who fired to first to complete an inning-ending double play.
"Everybody in the dugout was going, 'No!' But, hey, it worked out," Stoll said. "Great feed by Brandon and a really, really good pivot by Kincaid."
Though the Lions only had five singles, it's these kind of scrappy wins that their coach likes to see.
"We always tell our guys we've got to find a way to win that game because (in the) first-round of state, second game of regionals, you're going get somebody's No. 1 (pitcher), and you're going to have to find a way to scratch two or three runs across," Stoll said. "With our pitching staff, we think two or three is enough to win it."
The Lions will face Blue Valley North at noon Saturday at the Blue Valley District Activity Center.
---
SM West 000 000 0 — 0 6 2
Lawrence 002 000 x — 2 5 0
W — Brandon Bell (2-0). L —Jacob Sylvester.
2B — Nick Banman, SM West.
LHS highlights — Bell, 7 IP, 0 R, 7 Ks; Jacob Seratte, 2-2, 2 RBI; Michael Sinks 1-3, run, 2 stolen bases.
Copyright 2018 The Lawrence Journal-World. All rights reserved. This material may not be published, broadcast, rewritten or redistributed. We strive to uphold our values for every story published.