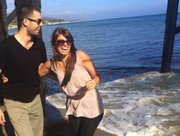 Kansas City, Kan. — Hours before a fatal tractor-trailer collision at a Kansas Turnpike toll plaza, the truck's passenger left an early morning voicemail for his girlfriend back in Colorado. He told her to expect him at 10 a.m. in Denver and that he had a fun-filled day planned.
Instead, Roman Ilyaich, 25, of Aurora, Colo., is still at Kansas University Hospital in serious but stable condition after the March 29 crash that took the life of the truck's driver, Sergiy Angelchev, 30, also of Aurora.
A tearful Anna Zlotnikova talked about her boyfriend in front of reporters Wednesday in the hospital's lobby. She was joined by Ilyaich's father, Yukhay Ilyaich, who made the trip from Arizona. Zlotnikova said Roman Ilyaich has not yet responded to visitors and that his injuries were traumatic. Both Zlotnikova and Yukhay Ilyaich asked for prayer as Roman Ilyaich recovers.
"We need him back," Zlotnikova said. "Trust me, the world needs him back."
Zlotnikova said Ilyaich was friends with Angelchev, who died at the scene after being ejected from the cab. Neither man wore a seatbelt, according to a Kansas Turnpike Authority accident report. The truck's cab wrapped around the tollbooth and its engine landed about 50 yards away after the 2004 Volvo Angelchev drove collided with it at highway speeds just before 3 a.m. March 29.
Ilyaich had joined Angelchev for trips before, but this was their first cross-country ride together, Zlotnikova said. On Tuesday, Val Konan, a manager for California-based Eastern Freight Solutions, confirmed that Angelchev was driving for the company but said Ilyaich was not an employee. Konan told the Journal-World that investigators told him it appeared Angelchev was asleep at the time of the crash, but Kansas Highway Patrol and turnpike authority officials say the investigation is still ongoing.
Zlotnikova described the two men as very close, having known each other for at least three years. Konan said Tuesday that Angelchev came to the United States from Ukraine. Both Zlotnikova's and Ilyaich's families emigrated from Russia. Ilyaich had been studying to become a real estate agent, taking his studies with him as he rode with Angelchev, Zlotnikova said.
Zlotnikova and Yukhay Ilyaich both said Wednesday they learned of the crash between 10 a.m. and 10:30 a.m. Saturday. As she waited for her boyfriend to return, a half hour after he had said, Zlotnikova was angry, sending him Snapchat messages that showed his original message promising to be there by 10.
"Little did I know," she said.
Copyright 2018 The Lawrence Journal-World. All rights reserved. This material may not be published, broadcast, rewritten or redistributed. We strive to uphold our values for every story published.