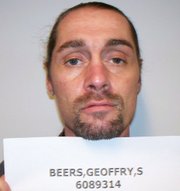 A 38-year-old Lawrence man previously indicted on a federal gun charge was sentenced to 30 months in prison Tuesday in connection with several charges dating back to 2011.
District Judge Kay Huff sentenced Geoffry Beers, who pleaded no contest in February to possession of methamphetamine, two counts of felony theft having been convicted of theft more than two times, burglary and assault.
Beers was charged with possession of methamphetamine in August 2011. The theft charges stem from separate June 2013 incidents at Kohl's and Dillons. The assault occurred in June 2013 and the burglary occurred in July 2013.
Also Tuesday, Beers was charged with two felony counts of fleeing or attempting to elude a police officer on separate occasions: in June 2012 and January 2013. Beers is set to be sentenced for those charges on May 6.
Beers was indicted in July 2013 on charges of illegally possessing a firearm as a convicted felon in October 2012. He has a criminal history dating to the late 1990s, including robbery and drug convictions in Douglas County and an escape from custody conviction in Sedgwick County. Beers could face up to 10 years in federal prison if convicted of the gun charge.
Copyright 2018 The Lawrence Journal-World. All rights reserved. This material may not be published, broadcast, rewritten or redistributed. We strive to uphold our values for every story published.