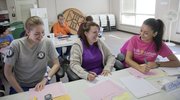 About this feature
Micki Chestnut is director of communications for the United Way of Douglas County, which provides occasional features spotlighting local volunteers and charities supported by the United Way.
When she worked in the WIC — Women, Infants and Children — clinic at the Lawrence-Douglas County Health Department, Alicia Erickson noticed that a lot of parents were not sure how to tell when their children truly needed emergency medical care.
Should they whisk a feverish kid off to the ER in the middle of the night, or give the child some Tylenol and call the doctor in the morning? Wanting to err on the side of caution, far too many bundled up their babes and headed to the hospital only to be told that the problem wasn't life threatening.
"A lot of new moms are scared of everything; a lot of people say they go to the emergency room for everything," said Erickson, a United Way of Douglas County AmeriCorps member who served at the Health Department for a year, focusing on increasing health literacy and health outcomes for patients.

But that changed after Erickson gave parents a copy of "What to Do When Your Child Gets Sick," an easy-to-read reference book that gives caregivers clear-cut instructions on how to deal with common pediatric health concerns, from high fevers to nasty coughs. As parents spent 20 minutes going over the book with Erickson, their confidence grew and they felt more comfortable discerning when a health challenge called for the ER, a call to the doctor, or just a few days' rest.
The result? Parents who received "What to Do When Your Child Gets Sick," complete with a 20 minute overview on how to use the book, reported 55 percent fewer unnecessary visits to the emergency room and 46 percent fewer unnecessary visits to the doctor. They also said they missed 56 percent fewer days of work because of a child's illness and that their children missed 64 percent fewer school days because of illness or injury, according to a 2010 survey by the Kansas Head Start Association.
Another result? Huge savings for the health care system. The Kansas Health Institute reported that in 2008 to 2009, 41,300 children on Kansas Medicaid visited the emergency room. The average cost of each visit was $700 per child, according to the Agency for Healthcare Research and Quality. If 50 percent fewer children accessed care at the ER unnecessarily, Kansas Head Started postulated, the result would be a cost savings of $14 million.
After seeing outcomes like these, the United Way joined other organizations in Douglas County that are focused on community health to promote the use of "What to Do When Your Child Gets Sick. "Last year, Erickson and another AmeriCorps member serving through United Way at Heartland Community Medical Clinic were trained to teach parents how to use the book. In September, the United Way sponsored a communitywide training opportunity in which 10 of its AmeriCorps members, serving at Heartland Community Medical Clinic, the Willow Domestic Violence Center, CASA, the Health Department, Boys & Girls Club of Lawrence and Kennedy Elementary School, were among those trained to use the book with Douglas County parents.
Deborah Boulware O'Neal, project director for the Parent Health Literacy Project through the Kansas Head Start Association, who coordinated the recent training, said the secret of success for the book is that it helps raise the health literacy of parents.
"Poor health literacy is the strongest predictor for a person's health, more than age, income, employment status, educational level or race," she said. Without this tool, many of the parents rely on the advice of family, friends, TV or Internet searches, none of which is guaranteed to provide accurate medical information.
Kim Ens, director of clinic services for the Health Department, which has distributed more than 550 books since March 2011, said she sees it empower parents to make wise health care decisions for their children.
"It helps them use health care appropriately," she explained. "It gives them the power to make those decisions."
Copyright 2018 The Lawrence Journal-World. All rights reserved. This material may not be published, broadcast, rewritten or redistributed. We strive to uphold our values for every story published.