Only in Lawrence 2013
The Journal-World asked Lawrenceians to tell us about the unsung heroes in the community, resulting in the annual
Only in Lawrence
feature.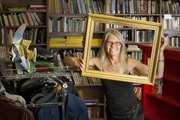 When Jean Ann Pike started college at age 44, she wanted to become a social worker but couldn't get past the math. It's probably just as well.
As the manager of the Social Service League's thrift store in Lawrence, she still gets to spend her life helping people, and she deals far less with a hated scourge ­— paperwork — than a social worker.
For more than a decade Pike has been for many the face of the league in Lawrence and has helped transform the store into a community center. All along the way she has been wrangling volunteers, helping people get badly needed living necessities and offering a sympathetic ear to anyone who needs one.
Pike got connected with the league soon after moving to Lawrence in 1997. She had just moved in to a big rental house with too few curtains, and her daughter, who lives in Lawrence, recommended that she try the league's store. Pike loved the place from the beginning.
"I was so impressed with how people were treated there," Pike said. "They get poverty. They understand need and pride and dignity."
Pike began working as a volunteer, putting in several hours a week, before joining the Social Service League Board.
The league began in 1863 as a way to get low-cost necessities to people in need. It is Lawrence's oldest service organization.
The league's thrift store on Rhode Island Street goes back to the 1890s. At the moment the store is closed while the developers of the new Marriott hotel near Ninth and New Hampshire streets, which is essentially in the store's backyard, construct the hotel and do stabilization work on the store as part of the project deal. The move to the store's temporary location, in the old Allen Press Building at 11th and New Hampshire streets, has kept Pike working nearly every day for two weeks. The move has been taxing, "but it keeps me strong and healthy," Pike said.
People from every social and economic strata come to the league's store to shop. By the league's charter, they keep their prices as low as they possibly can while still paying to keep the lights on. Even with the low prices, there are still people who can't afford the clothes there. To help the town's neediest, the league has vouchers that can be traded for clothes. People can also volunteer for an hour in exchange for a bag of clothes.
Pike is a fixture for those coming in. Even the kids know her. Since starting as manager in 2000, she has watched some of them grow into adults. One even came back to buy her wedding dress from Pike.
If Pike had the time to spare, she'd like to amp her fundraising efforts, maybe raise some cash to further rehabilitate the interior of the 120-year-old store on Rhode Island. Then, in five years or so when "the good Social Security kicks in," Pike might call it a day.
Although of course she would still come in to volunteer at the league store. She can't seem to stay away from the place.
"How can you not feel good at the end of the day when you know you've helped a bunch of people?" she asked.
Copyright 2018 The Lawrence Journal-World. All rights reserved. This material may not be published, broadcast, rewritten or redistributed. We strive to uphold our values for every story published.