Only in Lawrence 2013
The Journal-World asked Lawrenceians to tell us about the unsung heroes in the community, resulting in the annual
Only in Lawrence
feature.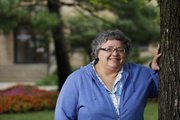 Several people congregated in the quiet foyer at the Douglas County Senior Services building on a Tuesday morning.
Some watched television while others sipped coffee and looked outside at the steady drizzle.
Janet Ikenberry was out of sight, sitting in her office down the hall, solving as many problems as she could before the noon hour.
Though the list of her responsibilities includes organizing hundreds of services for thousands of senior citizens, Ikenberry is, first and foremost, a problem solver. She's not only willing to drop everything she's working on when someone calls with a problem or emergency — it's what she lives for.
"It's nice to get up in the morning and know that you're coming to a place where you have the opportunity to help people," Ikenberry said.
As the community services manager, Ikenberry arranges for senior citizens in Douglas County to receive services including utility assistance, Medicare counseling and help with insurance and prescriptions.
Ikenberry also does outreach, letting people know about the services her office offers, and she mediates biweekly meetings of the Caregivers Support Group.
For the past 21 years, this has been her life. And, as of now, she wouldn't have it any other way.
"No matter what happens in a given day, I know that I'm going to help somebody," Ikenberry said. "It's a good feeling."
Working with senior citizens wasn't always part of Ikenberry's plan.
After graduating from Baldwin High School, she attended Kansas University where she obtained a degree in sociology and psychology with the intent of one day working with kids.
"I think it was a time when I had some altruistic ideas," she said. "I thought I was going to save the world, that sort of thing."
While in college, Ikenberry worked at Gibson's Department Store. She eventually worked her way up from the hardware department to advertising. Though she enjoyed working on ad layouts, Ikenberry was looking for a chance to put her degree to use.
She responded to a help wanted ad and began working part time with the Visiting Nurses Association of America, which advocates for nonprofit home health care.
"I thought maybe I should use the degree instead of just continuing down this other path," Ikenberry said. "I thought this was a good way to see if I liked working with people in that way. And it took."
Ikenberry worked with the VNAA as a companion aid on the weekends. It came naturally to her; she always had a close relationship with her grandmother, which grew into an affinity for everyone in that generation.
Now, along with a team of employees at DCSS, Ikenberry dedicates every day to assisting older adults to stay happy and comfortable, a mission that is made more difficult with a recent lack of funds stemming from the recession.
Ikenberry said the agency has seen a surge of younger senior citizens needing assistance after losing their jobs.
"Money is tight everywhere, especially for people who are needing rent or utility assistance," Ikenberry said. "It's tough to say no to people because you don't have the money, and that's happening more to us than it ever has before."
Through all of this, Ikenberry has kept a positive approach, employing the golden rule and trying to relate to people as a peer and friend.
Ikenberry works alongside several other full-time employees in the DGSS offices, and part-time bus drivers, dining center employees and receptionists fill out the payroll.

"It's not just me, it's everybody here," she said. "We're a team. We really are."
As the rain fell outside and people visited in the foyer, Ikenberry explained her role, and the role of DGSS, in the community.
"We try to make this a place where people feel comfortable coming," she said. "Our mission says it all. We want to create opportunities to allow people to remain independent and active in their homes and communities. And it's not just me; everybody has the same attitude of service."
Copyright 2018 The Lawrence Journal-World. All rights reserved. This material may not be published, broadcast, rewritten or redistributed. We strive to uphold our values for every story published.