Only in Lawrence 2013
The Journal-World asked Lawrenceians to tell us about the unsung heroes in the community, resulting in the annual
Only in Lawrence
feature.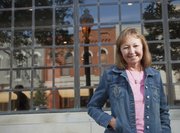 It's fair to say that Lawrence's Old-Fashioned Christmas Parade might never get out of the starting gate, if not for the volunteer work of one local woman.
For the past five years, Elaine VanDeventer has volunteered as the director and coordinator of that uniquely Lawrence event, organizing the schedule, lining up entrants, sending out publicity articles and writing news releases, and even booking hotel rooms for the people who come from far and near to take part in the parade.
"It needs a lot of coordination and recruitment and fundraising, and so I've enjoyed it very much," VanDeventer said. "I've made a lot of new friends involved in the horse world, and they are the nicest people. If you love horses, you've just got to be a really good person at heart."
The annual parade, which officially kicks off the holiday shopping season in downtown Lawrence on the first Saturday in December, has been a local tradition since 1993. It's one of only a handful of parades in the United States, VanDeventer said, that features only authentic or authentically restored, horse-drawn carriages and vehicles.
Not even rubberized tires are allowed on the vehicles, she said, "because that's something that was not available years ago."
It's also an event that requires so much planning and coordination that for VanDeventer it's practically a year-round occupation. She starts getting ready for the next parade only a few weeks after the last one wraps up.
"What I try to start doing in January and February, because it's kind of a down time for me, is working on the publicity, writing some articles to be used," she said. "It's also a great time in remembering (the previous parade). If you wait too long, you sort of forget the good things and bad things. Our committee always meets in January, at what we call a wrap-up meeting, and we kind of brainstorm about what worked well and what maybe didn't work so well."
Over the years, VanDeventer said there actually have been quite a few occasions when things didn't exactly work as planned. Most of them, though, were things people could laugh about afterwards.
"One year we had somebody's cart end up on somebody's front porch," she recalled with a laugh. "For whatever reason, the horse got scared and he decided that's where he would be safe, and he just went up on the porch."
In another incident, an older horse being ridden in the parade got tired and simply decided to stop and lie down in the parade route.
"Fortunately it was on the way back to the fairgrounds, so there weren't as many spectators as there could have been," she said.
For those who take part in the parade, one of the other important events is the traditional dance and barbecue dinner the night before. And that's something VanDeventer takes great joy in helping organize.
"Many of our entries come from such a distance that they stay overnight," she said. "So it's just to get everybody together and meet. A lot of them are rekindling friendships that they've made in prior parades. We feed them a barbecue dinner, provided for us by Buffalo Bob's. And we have a local band to play some music, and everybody seems to have a really good time."
Marty Kennedy, chairman and treasurer of the limited liability corporation that finances the parade, said VanDeventer deserves credit for turning the parade into a nationally recognized event.
"She has received many compliments from Parade participants as well as Lawrence officials as to how organized the event is," said Kennedy, who nominated VanDeventer for this year's "Only in Lawrence" award. "Thanks to her successful publicity campaign, the parade was written up last year in USA Today as one of the top 10 destinations to kick off the Christmas Season."
Copyright 2018 The Lawrence Journal-World. All rights reserved. This material may not be published, broadcast, rewritten or redistributed. We strive to uphold our values for every story published.