Only in Lawrence 2013
The Journal-World asked Lawrenceians to tell us about the unsung heroes in the community, resulting in the annual
Only in Lawrence
feature.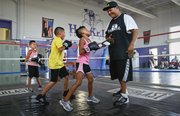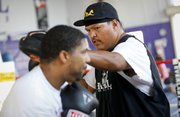 Erik Riley won't turn away anyone willing to put in the work.
• • •
Riley, the head coach at the Haskell Boxing Club for more than 10 years, oversees a stable of boxers as young as 7 and as seasoned as 50.
All equipment inside Haskell Indian Nations University's Pontiac Hall has either been donated or purchased by Riley — who spends his days working in the Lawrence School District's maintenance department — or by assistant coach Darren Jacobs. The club's list of regulars extends from a pair of Free State High senior twins ­— Marcus and Maurice Jacobs, Darren Jacobs' sons — to veteran local boxers like Armond Enclarde and Mioshia "Yosh" Wagoner, the latter having earned a silver medal on the international stage.
"I think his true talent is recognizing your talent," Enclarde said about Riley. "He never coaches all of us the same way."
To most, Riley is more than a coach with a proclivity for personalized training regimens who volunteers his time three evenings per week.
"He is often a mentor and father figure to many of his fighters," Enclarde said. "He doesn't just teach boxing. He teaches morals, respect, hard work, dedication and life values that young people need to be successful in the world today."
More than a decade ago, before Riley became the club's head coach, he and several dozen friends would stage weekend boxing nights inside his garage. One night, Riley was urged to avoid one particular opponent: the 6-foot-1, 180-pound former Haskell basketball player and longtime boxer Marcus Oliveira. Riley, who, at 6-1, 240 pounds, can also cut an imposing figure, bristled at the thought of backing down. Within 30 seconds, he was nearly unconscious.
Annoyed at defeat, Riley approached Oliveira to find out how the smaller fighter was able to pick him apart. Today, the 25-0 world-title-contending Oliveira is one o f Riley's many students.
Though a campus group, Riley's club is open to the community and differs from many gyms in that no large monthly fee is asked.
"It's better for us," Riley said of his decision to open the gym to the public. "It gets people on campus a little bit and shows them what Haskell is."
After graduating from Haskell in 1996, Riley became entangled in partying before returning to the Fort Apache Indian Reservation in Arizona, where he grew up. Back home, Riley checked into rehab and sobered up, but found little to do on a reservation more than three hours from the nearest big city. So he embarked on a road trip, returning to Lawrence. From 1997 to 2001, Riley did little besides work, then he was asked to help a friend prepare for a kickboxing match.
"I got bit by the bug," Riley said.
Soon, Chris Wilkes, the Haskell Boxing Club's founder who now lives in California, asked Riley to come coach at the upstart club.
The club has come a long way. Throughout, Riley said, the club has maintained a good relationship with the university's leadership. The Haskell Boxing Club was allowed to take its present location after helping clean up the space. For its part, the university applied a fresh coat of paint. Now, the university's purple and white colors envelope a gym stocked with equipment and featuring a four-sided ring Riley uses to spar with his pupils.
For Riley, the sport has become a metaphor for life, and he isn't shy about pointing that out to his boxers.
"In boxing, I tell these guys, there's never going to be a time that you can't swing one more time and can't throw one more punch," Riley said. "Unless you're knocked out."
Copyright 2018 The Lawrence Journal-World. All rights reserved. This material may not be published, broadcast, rewritten or redistributed. We strive to uphold our values for every story published.