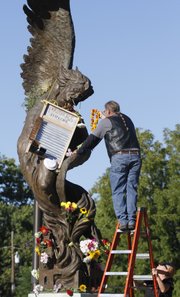 Louis Copt, a Lawrence artist, was a friend to Jim Brothers for almost 50 years.
Brothers was Copt's art teacher at Emporia High School in 1966. The two bonded over their artwork and immediately became friends. Three years later, they went on a two-month vacation to Europe, visiting sites in Rome and celebrating in Paris when Apollo 11 landed on the moon.
They both eventually ended up in Lawrence, and would spend time together collaborating on projects and sharing ideas and stories. Copt would criticize Brother's sculptures, and Brother's would do the same to Copt's paintings, all in good humor.
To honor the life of his longtime friend, and to allow all of Brothers' family and friends to do the same, Copt organized a celebration at the Lawrence Visitor Information Center on Sunday afternoon.
"Jim didn't really want a big funeral service," Copt said. "He said, 'If you do anything, just have a party.' And so that's what this is. We're here to have a beer, eat and celebrate Jim."
Brothers, a local sculptor known throughout the world for his contributions to national war memorials and his depictions of American historic figures, died on Aug. 20 after a long battle with cancer. He was 72.
Brothers designed several pieces in the National D-Day Memorial in Bedford, Va., and he contributed to the Korean War Memorial at the National Mall in Washington, D.C. Brothers also did the statue of Gen. Dwight Eisenhower that stands in Statuary Hall in the U.S. Capitol.
The one Brothers piece in public view in Lawrence is "From the Ashes," which depicts a man morphing into a phoenix as it rises from the flames of a burning building. The statue is meant to symbolize Lawrence's rise from the ashes after Quantrill's Raid during the Civil War, and it stands in front of the visitor center.
Many who attended the celebration Sunday took the time to place a flower on "From the Ashes," covering the statue in a multitude of colors.
A slideshow played throughout the afternoon, documenting Brothers' life. There were pictures of him as kid in Eureka, Kan., at his wedding, in his studio, on his motorcycle, in Civil War re-enactment gear, and playing washboard in the Alferd Packer Memorial String Band.
In another room, friends, family and acquaintances took part in a potluck and clumped together, swapping stories of their pal Jim.
"He could go from playing the washboard to doing a sculpture to riding a motorcycle to sitting at Johnny's sipping a beer," Copt said. "He just fit in in a lot of different worlds, and he had a range of friends across the spectrum. He knew everybody, and everybody was a friend."
Several of these friends stood during the celebration to relay a memory or to openly say their goodbyes.
Brothers' wife, Kathleen Correll, was the first to speak. She danced along to the guitar, and then explained how she and Brothers met.
"You guys are wonderful for remembering," she concluded. "I think I'll dance one more."
The Alferd Packer Memorial String Band, a bluegrass band that Brothers founded, played for much of the celebration. A painting of Brothers sat on an easel next to the band. It depicted Brothers as he would look when performing, wearing fringe, a hat and glasses with washboard in hand.
"I did that painting a few years ago," Copt said. "I did that painting of him, and he did a sculpture of me. That was our trade."
Copyright 2018 The Lawrence Journal-World. All rights reserved. This material may not be published, broadcast, rewritten or redistributed. We strive to uphold our values for every story published.