Only in Lawrence 2013
The Journal-World asked Lawrenceians to tell us about the unsung heroes in the community, resulting in the annual
Only in Lawrence
feature.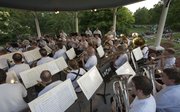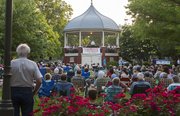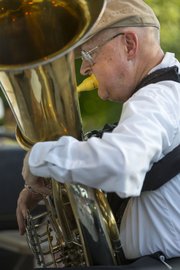 It's like having LeBron James on clarinet, Kobe Bryant on tuba and Paul Pierce on bassoon.
When Robert Foster taps his baton to begin a concert of the Lawrence City Band, he can't help but feel a bit like the coach of one of those Dream Team basketball squads.
Don't believe it? During the summer season, go to the band's regular 8 p.m. concerts at South Park and listen. Then remember this: While the band is making complicated marches and classical pieces sound pleasing, none of the band members had even practiced the music until two hours before the concert.
"It sounds really good because they are really good players," said Foster, a member of the band since 1971 and has been its conductor since 1992.
Band members begin arriving for an 8 p.m. concert at South Park at 6 p.m. That's when members first get the music for that night's concert. They rehearse for an hour, and that's all it takes to pull off a midsummer's night of top-notch band music.
Well, in Lawrence, anyway, that's all it takes.
"We couldn't pull this off in any other city in Kansas," Foster said.
Foster said Lawrence's city band has an advantage because KU's music department brings top-flight musicians into the community. Sometimes they are not even students. Like one day Foster — who was director of bands at KU for 31 years — remembers stopping by to ask one of the school's renowned tuba professors whether he would be able to play in the city band concert that evening.
The professor said he couldn't make it, but his friend who was visiting him that day might be able to fill in. He just happened to be a retired tuba player from the United States Army Field Band, considered by many to be the best touring concert band in the world.
The tuba man played that night and then decided he could start making the trip each week from his home in Booneville, Mo., to play with the City Band.
"One of the secrets of success is that really good players like to play with other really good players," Foster said. "It is like how really good athletes like to play with other really good athletes."
The band has about 55 members, but probably could have more. It doesn't because it doesn't have a bigger bandstand.
"It is limited by how many chairs you can fit on the gazebo," Foster said.
But there is enough room for a variety of players, Foster said. While there are many who have a professional music background, either as a performer or a teacher, there are plenty of band members who just have ordinary jobs and a love of music.
"Some of them may not be as good of a player as someone else in the group, but they are all smart," Foster said. "They may make a mistake in rehearsal, but they rarely ever make a mistake in a concert."
The result is a band that has quite a reputation, and an even longer tradition. Foster said the first mention he found of a Lawrence City Band was in a 1929 Lawrence Journal-World article. It referenced how the Lawrence City Band played for a Fourth of July concert in 1855.
"I think there has been a band about as long as there has been a Lawrence," Foster said.
Foster said it was common in those times for any town that considered itself progressive to have a city band. Now, the Lawrence City Band is as much about remembering the city's past.
"There is no question about that," Foster said. "It is almost like going back to a calmer, more peaceful day when the world wasn't quite as confused as it is today. A city band concert is kind of like a Norman Rockwell moment."
Copyright 2018 The Lawrence Journal-World. All rights reserved. This material may not be published, broadcast, rewritten or redistributed. We strive to uphold our values for every story published.