Only in Lawrence 2013
The Journal-World asked Lawrenceians to tell us about the unsung heroes in the community, resulting in the annual
Only in Lawrence
feature.
Marg Hadl has lived in Lawrence all her life, volunteering for her church and other charities, not thinking people noticed. But they did.
"I think Marg represents the unsung volunteers who are the backbone of many church congregations," said Harriet Shaffer, a fellow member of Trinity Lutheran Church who nominated Hadl for Only in Lawrence. "In her senior years, she still chooses to volunteer extensively. She's not looking for attention, she's not looking for any praise or glory — she just serves."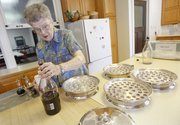 People who know Hadl describe her as quiet and unassuming, yet sweet as can be. And the 79-year-old is nothing if not loyal. She joined Trinity Lutheran when she was in junior high — and still goes there today ("It's just home," she says). She's never resided anywhere but Lawrence. She can only remember missing her church's night at the Lawrence Interdenominational Nutrition Kitchen once, when she was ill.
"She does things because there's an obvious need to get them done," said her daughter, Susan, 55, a retired Lawrence police sergeant, who describes her mom as extremely diligent and attentive to detail. "Rather than question who should do it or whose turn it is, she just volunteers and quietly goes about getting it done." Hadl has passed on that spirit of volunteerism on to Susan, who has been involved in church leadership and various other community causes. The two even deliver Meals on Wheels together.
Hadl's volunteer work begins with the church she has attended since 1948. She cleans the altar, washes the pastors' robes, prepares communion, reads scriptures, serves meals for families after funerals, writes thank you notes to memorial donors and coordinates the ushers. For years she was Trinity's coordinator for LINK, which provides meals to hungry families in Lawrence. She also makes food for guests in the Family Promise program when her church hosts them.
Not least of all, she writes notes to random community members, whether to tell them to get well soon or to congratulate them on an accomplishment. "I let people know I'm thinking about them," she said in her plainspoken manner. That sometimes includes delivering them a batch of her legendary vegetable soup.
Hadl has always been one to give back but ramped up her volunteerism after her husband, Gerald, died of a heart attack in 1999. They had been married, Hadl recalls on a dime, "46 years, two months and 11 days."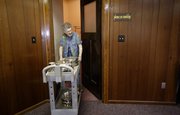 "He fell just right there by your chair, and he was gone," she said, during a recent interview in the living room of her quaint Lawrence home. "Someone told me the answer to getting over my grief was to stay very busy, so I have."
Hadl has seen many changes in Lawrence over the years. She graduated from Lawrence High School when it was still on Massachusetts Street. She remembers when the city was much smaller, when "everybody knew everybody," she says. She worked at Weaver's Department Store for 26 years — "I got to meet the original Mr. Weaver once" — and in the bakery at Dillon's for seven.
Asked why she never left Lawrence, Hadl responded: "I just have never been a wanderlust person. I'm just very happy here. And, of course, I married somebody who was from here. My oldest daughter is the only one who strayed — she went to Kansas City."
When she's not volunteering, Hadl likes to read and spend time with her cats, Addison "The Diva" Anne and Zoey Belle, both rescues from the Lawrence Humane Society. She feeds stray animals from time to time, and even helps stray kids. Once, a girl knocked on her door asking how to get to South Middle School. Hadl ended up befriending the girl and her family, and even giving her rides to school when the weather was bad.
"She's a giving person, but she does it quietly," Shaffer said. "She's a good example to follow."
Copyright 2018 The Lawrence Journal-World. All rights reserved. This material may not be published, broadcast, rewritten or redistributed. We strive to uphold our values for every story published.