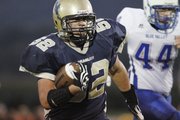 Jesse Moore scored on a 35-yard fumble return in the first quarter, and Chad Stieben scored on a 45-yard run in the third, but Veritas Christian fell to Blue Valley Randolph, 48-12, in high school football on Friday night at Veritas' field.
The teams played to a 6-all tie in the first quarter, but BV Randolph scored 28 points in the second quarter for a 34-6 halftime lead.
"I thought we competed really hard," Veritas coach Blake Mudd said. "We didn't beat ourselves with mistakes. We're just going to continue to get better and build from our youth."
Veritas (1-3) will play Friday at St. John's Military in Salina.
Blue Valley Randolph 48, Veritas 12
BV Randolph 6 28 6 8 — 48
Veritas 6 0 6 0 — 12
V — Jesse Moore 35 fumble return (run failed)
V — Chad Stieben 45 run (run failed)
Copyright 2018 The Lawrence Journal-World. All rights reserved. This material may not be published, broadcast, rewritten or redistributed. We strive to uphold our values for every story published.