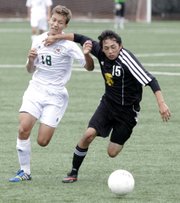 It had been four full games and nearly 300 minutes since the Free State High soccer team last scored a goal, but the Firebirds put a quick end to that disappointing stretch during Saturday's 2-0 victory over Topeka High.
Less than five minutes into a game played in conditions that felt and looked much more like the end of the season than the beginning, the Firebirds finally broke the drought when junior Chaska Rocha found the back of the net and put the Firebirds up 1-0 and in control early.
Rocha did not receive a golden cleat, confetti did not fall from the sky and the goal will not go down as one of the best in Free State history. But for this team, at this time, it sure felt like all of that should've happened.
"There were unsaid trophies," senior AJ Ware said of the team's discussions about who would be the one to snap the skid. "We didn't have to speak of it, but we've been needing someone to step up."
Added sophomore Will Laufer: "It was extremely uplifting to get that early goal."
It also was all the Firebirds (3-3-1) would need thanks to their ability to keep possession and limit Topeka High's chances.
"Possession is always something we've prided ourselves on," FSHS coach Kelly Barah said. "And to get this result from that was nice to see."
Although the chances were few and far between for both squads in the first half, Free State eventually found the right formula and, during a 12-minute stretch midway through the second half, had five quality scoring chances right on the THS doorstep.
Junior Daniel Clarke ripped a shot from inside the box that initially got through the goalie's hands but dropped harmlessly after the deflection. Senior Chris Allen's free kick from the edge of the box sailed high and wide. Senior Alex Trent's baseball slide at the far post just missed a connection on a perfect cross from Laufer. Trent also came up empty with his head on a bouncing ball three feet in front of the net. And, a minute earlier, sophomore Ernesto Hodison's volley off a sweet cross from Ware just missed.
Despite the empty chances — credit for a few of the stops should go to THS goalkeeper Brendon Stock — the Firebirds came away encouraged by their offensive awakening.
"It's a great sign," Ware said. "The finishing factor is obviously important, but Barah stresses playing an overall game and we did that today."
Added Barah: "Creating chances in front of the goal mouth is what we've been wanting, and we had quite a few today. Not only were we not scoring (before), but we were not even getting shots off. Today we did all of it — scored and got a lot of shots. I definitely feel like everything is starting to come together."
After misfiring so many times and allowing Topeka High to hang around, the Firebirds put the game away when sophomore Eduardo Carballido's header off a cross from Ware got by Stock with just a few minutes to play.
"We're definitely going to build on this," Laufer said. "We got the ball rolling with this one and we just need to keep pushing and keep the intensity up."
Free State returns to the pitch Tuesday for a home game against Shawnee Mission Northwest and will head across town Thursday for Round 1 of the city showdown with Lawrence High.
Copyright 2018 The Lawrence Journal-World. All rights reserved. This material may not be published, broadcast, rewritten or redistributed. We strive to uphold our values for every story published.