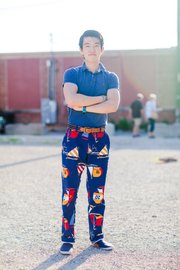 Name: Mingtian Zhao
Age: 20
Relationship status: Single

Hometown: Hainan, China
Time in Lawrence: Three years
Occupation: I'm a student at the KU School of Music.
Dream job: A concert pianist and a piano teacher. I'd also like to have my own fashion brand.
What were you doing when scouted? On the way to Signs of Life with a friend.
Describe your style: My style reflects my personality, which is bright and easygoing. Also being a pianist, we have to dress in a respectful way. It's polished, classic and preppy.
Fashion trends you love: I like clothes that match my mood. I like to try different styles every day. They can be formal or informal. I also like sport jackets a lot.
Fashion trends you hate: It's very hard to say: everybody has their own favorites. I respect everyone's choice of fashion.
Fashion influences: Hollywood actors like Robert Downey Jr. inspire me. I also like brands like Brooks Brothers and Tommy (Hilfiger).
What would you like to see more of in Lawrence? People here are pretty friendly. Maybe (more) people dressing up occasionally.
Less of? Lawrence is the most beautiful college town and we have the nicest people here, so in my opinion nothing needs to change.
Tattoos or piercings: None. My parents would kill me!
Whom do people say you look like? There is only one Mingtian Zhao in this world!
What type of music do you unwind to: Jazz, Chopin's nocturnes and waltz.
Tell us a secret… I'm a Gemini.
Copyright 2018 The Lawrence Journal-World. All rights reserved. This material may not be published, broadcast, rewritten or redistributed. We strive to uphold our values for every story published.