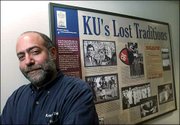 Henry Fortunato was between Paola and Ottawa when the red pickup truck approached, the rolled-down window revealing a small but spry old woman.
"I'm 80 years old and I'm not afraid of anything," she said. "So I figured I'd stop and see if you were OK."
Fortunato, this year's Simons Public Humanities Fellow and the director of public relations at the Kansas City Public Library, was all right. He was on his way to Wichita, a 240-mile trek that began at the front door of his Overland Park home and that would span 13 days.
The woman became one of many chance encounters along Fortunato's journey and among the anecdotes shared during his Thursday talk inside the Hall Center for the Humanities. Fortunato described his talk — "A Long and Winding Walk to Wichita" — as a tryout for his 2014 walk across the state, from Overland Park to Mount Sunflower near the Kansas-Colorado border.
These walks, he said, will be the subject of a forthcoming book. Fortunato also is working with the Watkins Community Museum, the city and Kansas University graduate students to produce interpretive signage for the Burroughs Creek Trail and the Haskell Rail-Trail in East Lawrence. Fortunato, an East Coast transplant turned "Naturalized Kansan," spoke for more than an hour before fielding audience questions.
"We bi-peds are made to walk," Fortunato said. "It's in our collective DNA, is the best physical exercise possible and is totally free."
In October 2012, Fortunato departed from his doorstep and began his walk to Wichita, one of more than a dozen long-distance walks along the Kansas countryside. With a backpack and his 20-year-old walking stick in tow, Fortunato averaged up to 23 miles per day, walking eight to nine hours at a time before settling each night at a hotel. He passed through 14 cities. He spent large swaths of time along trails in the Flint Hills, sometimes cursing some of the trails' impassable stretches and the locals' inability to warn of such obstacles. One of just two short rides that Fortunato accepted was from a Chase County sheriff's deputy who had responded to calls from the tiny town of Elmdale.
"There aren't a lot of people who walk around here," the sheriff's deputy told Fortunato.
When he embarks on his next trek, his longest yet, Fortunato said he plans to set out on a zig-zag pattern, passing through the state's notable towns. He'll aim for 30-mile walks at least once every four days but doesn't want to arrive exhausted at each destination.
Copyright 2018 The Lawrence Journal-World. All rights reserved. This material may not be published, broadcast, rewritten or redistributed. We strive to uphold our values for every story published.