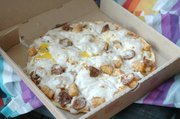 In honor of today's feature story on late-night eateries in Lawrence, we bring you Off the Beaten Plate, fourth meal edition: an entire greasy breakfast and a pizza in one. Fat Freddy's Wake n Bake Pizza is a thin crust heaped with peppery country gravy, runny fried eggs, sausage, bacon, cheese and whole tater tots. The menu description warns, "You just woke up, now get ready for a nap, this beast is no joke."
Where to get it: Fat Freddy's Pizza and Wings, 1445 W. 23rd St. (Carryout and delivery only, open until 4 a.m. Thursday through Saturday and 3 a.m. most other days.)
What you'll pay: $14.99, for a medium.
Try it with: Well ... the name of this pizza implies one thing. Coffee or orange juice would be more legal choices.
Also on the menu: Complete and utter food debauchery, basically. Here's a few more of Freddy's specialty pizzas: The Stoner Pie (pepperoni, bacon, mozzarella sticks, french fries), Emmy's MacDog (ziti noodles, deep-fried hot dogs, queso) and the Whole Herd ("Everything that walks, nothing that flies, and absolutely NOTHING that grows in the sun").
There are breakfast items, including the Chicken Fried Chicken Sub (with hash browns, gravy and sweet corn) and desserts including Chocolate Zeppolis (fried pizza dough balls with powdered sugar and chocolate frosting). Fat Freddy's also has hot wings with more than a dozen sauces, subs, salads, Diggity Dogs (deep fried hot dogs with a variety of crazy toppings), cheesy fries, stromboli, calzones and pasta.
Copyright 2018 The Lawrence Journal-World. All rights reserved. This material may not be published, broadcast, rewritten or redistributed. We strive to uphold our values for every story published.