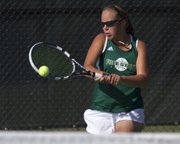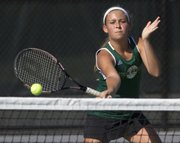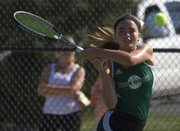 The way Free State High senior Alexis Czapinski has played this season, Czapinski, the girls tennis team's No. 1 singles player, doesn't often need any motivation to steamroll her competition.
Unfortunately for her opponents at the Firebirds' Wednesday home quadrangular, Czapinski had lost for the first time this season a day earlier.
Zeroed in, Czapinski breezed through all three of her opponents, winning each match, 8-0, to help FSHS tie both Shawnee Mission Northwest and Olathe Northwest, and defeat Shawnee Mission North.
"I just went out there to win and practice the things I needed to practice. I think that I accomplished that in the end," Czapinski said after improving her season record to 17-2.
A day earlier, at the St. Thomas Aquinas Invitational, in Kansas City, Mo., Free State's top player went 3-2. She wasn't pleased with her serving at the highly competitive tournament, so she addressed that aspect of her game at the quad and returned to the accuracy and consistency to which she had grown accustomed.
"I knew there were some things I wanted to tweak and work on," Czapinski said, "in a situation where it wasn't a tournament that was similar to state."
Going 3-0 at the Firebirds' home debut was one thing, but Czapinski felt even better about beating Blue Valley West's Katie Fries the day before, because Fries beat her not only at a Class 6A regional tournament in 2012, but also at state.
"I'm pretty happy with the way I've progressed so far this year," Czapinski said.
Although Free State finished the quad with two ties and one win as a team, coach Oather Strawderman applauded his players for remaining competitive a day removed from playing five matches apiece at the STA Invitational.
"Both those schools (SMNW and ONW) are always really strong and always top finishers in the Sunflower League, so to be able to play even with those teams is a good result for us," Strawderman said.
FSHS junior Megan McReynolds went 2-1 at the quad, as did the No. 2 doubles team of junior Alyssa Raye and sophomore Rachel Walters. Free State's No. 1 doubles team, junior Taylor Hawkins and sophomore Caitlin Dodd, earned their first victory in their finale, against SMN.
Strawderman said both doubles teams improved as the afternoon went on because they took it to their opponents.
"That aggression, that getting to the net, that fire they've got," he said, "I was able to see that out of the doubles teams today, and that was good to see."
Raye said she and Walters talked out their issues when they got into a rut.
"We started out really well, and then we kind of got unfocused," Raye said. "But we came back really aggressive."
Free State will play Saturday at the Emporia Invitational.
Free State 2, Shawnee Mission Northwest 2
No. 1 singles — Alexis Czapinski, FSHS, def. T. Horton, 8-0
No. 2 singles — Megan McReynolds, FSHS, def. C. Sommela, 8-6
No. 1 doubles — Freeman-Drummond, SMNW, def. Taylor Hawkins-Caitlin Dodd, 8-2
No. 2 doubles — Benjamin-Rebori, SMNW, def. Alyssa Raye-Rachel Walters, 8-4
Free State 2, Olathe Northwest 2
No. 1 singles — Czapinski, FSHS, def. Tessa Ziu, 8-0
No. 2 singles — Madeline Dorhety, ONW, def. McReynolds, 8-5
No. 1 doubles — Anders0n-Aermseu, ONW, def. Hawkins-Dodd, 8-5
No. 2 doubles — Raye-Walters, FSHS, def. Boch-Ochner, 8-6
Free State 4, Shawnee Mission North 0
No. 1 singles — Czapinski, FSHS, def. Holly Clark, 8-0
No. 2 singles — McReynolds, FSHS, def. Brittany Whitebread, 8-0
No. 1 doubles — Hawkins-Dodd, FSHS, def. Ulrika Bloom-Kelsey Graham, 8-0
No. 2 doubles — Raye-Walters, FSHS, def. Vanessa Artas-Deidra Lutz, 8-0
Copyright 2018 The Lawrence Journal-World. All rights reserved. This material may not be published, broadcast, rewritten or redistributed. We strive to uphold our values for every story published.