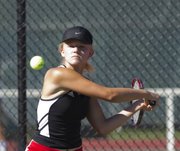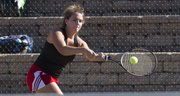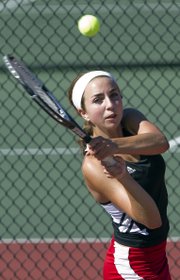 In the middle of a doubles comeback, Lawrence High's Audrina Hidalgo hit a hard smash that bounded by her Shawnee Mission West opponents for an apparent point.
There was only one problem: Hidalgo clipped the hair of teammate Natalie Cote first.
"I felt so bad. I thought I hit her in the head," Hidalgo said. "I was freaking out."
The point went to West, and that kind of hard luck seemed to follow LHS Monday, as the Lions were swept by Blue Valley West, SM Northwest and SM West in their home quad.
"All three of those are quality teams from Kansas City," LHS coach Chris Marshall said. "Hopefully, we learned from our mistakes and watched some good teams and realized what we are trying to accomplish."
Hidalgo and Cote came closest to a victory at No. 2 doubles, as they rallied against West's Kathryn Brown and Cady Pendelton.
After falling behind 5-3, LHS pulled closer thanks partly to strong serving from Cote, who delivered four aces in one game to close the deficit to 7-6.
"Sometimes they don't go the way that I want them to, but I was really happy with how they were this game," Cote said of her serves. "I'm very pleased."
Though Hidalgo and Cote eventually fell, 8-6, Marshall was encouraged that they made adjustments to play to their strengths.
One example was using a rare "reverse" formation. Because both players prefer their forehand shots to their backhand ones, they often lined up on the same side of the court as their serving teammate.
"We're one of the few teams that try different formations," Marshall said, "and by playing different formations, it makes the opponent think about their shots a little bit more."
Hidalgo and Cote decided to go with the strategy after working on it some in practice last week.
"At the end of our first match, we were down," Hidalgo said, "so we decided to try something new, and we liked it."
Lawrence's No. 1 doubles team of Yelena Birt and Caroline Baloga also stayed competitive against Shawnee Mission West, losing an 8-4 decision to Jessica Brewer and Abby Banning.
The Lions' Whitney Simons, Kendall Pritchard and Erin Ventura faced tough competition on the singles side, as the quad featured the fourth-, fifth- and 10th-place finishers at last year's 6A state meet.
LHS will play host to Manhattan on Thursday.
Copyright 2018 The Lawrence Journal-World. All rights reserved. This material may not be published, broadcast, rewritten or redistributed. We strive to uphold our values for every story published.