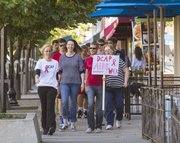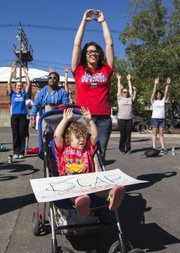 A stream of people half a block long walked two-by-two along the sidewalks downtown this morning, some with red ribbons tied around their wrists or draped over their shoulders.
Families, fraternity brothers and people of all ages dressed in red or carried signs reading, "DCAP AIDS Walk" or "Think Positive."
The 23rd annual AIDS Walk, put on by Douglas County AIDS Project, began at Maceli's, 1031 New Hampshire St., where participants ate brunch and flipped through pages of information concerning HIV and AIDS.
Though the event acted as a fundraiser, Trent Garber, Executive Director of DCAP, said the main purpose was to inform the community.
"It's more about raising awareness and getting it out there that HIV and AIDS is something that still exists," Garber said. "It still exists in the world and it still exists in our community."
According to AIDS.gov, one million people are living with HIV in the United States, and one in five are unaware of their infection.
Getting the message out, Garber said, is half the battle.
"The face of AIDS has changed. It's not an automatic death sentence any more, but it is a lasting health issue," he said. "And we can't let people forget."
Just before 11 a.m. today, participants gathered in the parking lot north of Maceli's to do a set of warmups led by Don "Red Dog" Gardner.
Then they power-walked north on New Hampshire Street, along Seventh Street and south on Massachusetts. The group did a lap around South Park to finish the two-mile walk.
Last year, the walk raised upwards of $10,000, and Garber said this year's event is on track to raise about the same.

Money raised will go toward HIV and AIDS testing in Douglas, Franklin and Jefferson counties. DCAP also provides supportive care for people in the tricounty area who have HIV or AIDS, making sure they have medication and can get to and from doctors appointments and support groups.
Copyright 2018 The Lawrence Journal-World. All rights reserved. This material may not be published, broadcast, rewritten or redistributed. We strive to uphold our values for every story published.