Photo Gallery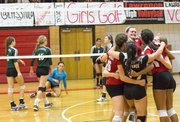 Free State, LHS volleyball at LHS tri
There was no time left to be passive.
With her team needing a spark immediately, Lawrence High senior Caitlin Broadwell — after taking it easy earlier in the day — decided to bring out her nastiest serves.
"After I got the first one down, I got more confidence, and I think it got the whole team pumped," Broadwell said. "I was trying to just kill the ball."
It came at the perfect time.
The 6-foot senior ignited an LHS rally on Thursday night, notching a pair of aces to start a Lions comeback in an 18-25, 28-26, 25-16 victory over Free State at LHS.
After losing the first set, LHS trailed 22-18 before Broadwell put down a kill, then two straight aces, which prompted the packed Lions' student section to start a "Cait-lin Broad-well" chant.
Though the Lions faced four match points in that second set, each time they responded with a point. With Free State leading 24-22, LHS sophomore Caroline Dykes put down a pair of consecutive kills, and she later ended the second set with an ace to give the Lions a 28-26 win.
"The atmosphere here is always loud and noisy," Free State coach Nancy Hopkins said. "The first game, we shut their crowd down, and that helped us. But when it's a really close game, their crowd gets loud, and (the girls) can't hear each other talk. That affects the way they play, too."
Broadwell and senior Sami Buffalomeat dominated Set Three.
Once again, LHS performed its best with Broadwell serving, as she helped LHS to a 7-0 run while providing two more aces before the next side-out that made it 13-6.
In the final set alone, Broadwell had seven kills, while Buffalomeat notched four, including an emphatic match-winner.
"I just wanted the ball every single time. When I didn't get it, I was mad," Buffalomeat said with a smile. "I felt more confidence, just wanting to end it."
Broadwell and Buffalomeat paced LHS with 10 kills apiece.
Free State's Grace Miller — while playing through a knee injury — led FSHS with 12 kills.
The Firebirds also played without Brooke Glasnapp, who suffered an injury in their first match against Olathe Northwest.
"We're getting better each time we play, and we're learning how to fight for things," Hopkins said. "We had to overcome a little bit of adversity."
Both LHS (25-23, 25-18) and Free State (25-19, 25-15) dropped their opening matches of the triangular against Olathe Northwest.
The day held special significance for Broadwell, as it was her first home event this year after sitting out because of thyroid issues. After the final point against Free State, the Nebraska-Kearney signee screamed out to her teammates in celebration.
A few minutes later, she couldn't even remember what she had said to them.
"You know 'runner's high?'" Broadwell said. "That was a volleyball high."
Copyright 2018 The Lawrence Journal-World. All rights reserved. This material may not be published, broadcast, rewritten or redistributed. We strive to uphold our values for every story published.