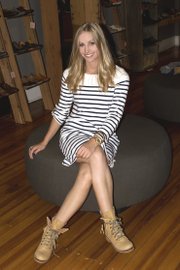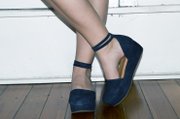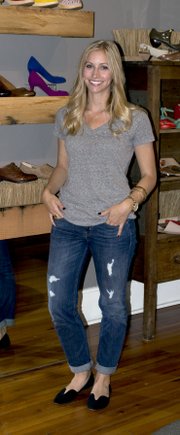 Shoes are a huge part of my wardrobe, considering I have an entire bookshelf filled with them.
If I'm going to invest in anything, it would most likely be shoes because they last longer and you will typically be able to wear them season after season.
The changing of the seasons prompts me to evaluate my shoe collection and see what I can keep, what I need to get rid of, and my favorite part: what styles to buy.
There are six styles I like to stick to when it comes to fall shoes: a flat, an oxford, something with height (whether that be stiletto, wedge or platform), a riding boot, an ankle boot and a work boot.
Flats and oxfords
Flats are always in my outfit rotations.
I probably wear them more than any other type of shoe because of their versatility. I throw them on with skinny jeans, boyfriend jeans and dresses.
Foxtrot, 823 Massachusetts St., has updated versions of past season's flats that are totally cute and easy to incorporate into your fall wardrobe. Elizabeth tried on a pair of black suede flats with a unique cut and open sides. I love the design because it has a subtle uniqueness to it. Elizabeth paired them with boyfriend jeans and a plain T-shirt.
Oxfords have been on the fashion scene for a while now, but there have been new versions popping up each season. One pair at Foxtrot stood out to me because of their sleek metallic exterior.
A fun and funky oxford is always good to have around to style with simple short dresses, or add some shine to a jeans-and-tee look.
Add some height
Whether you're more of a stiletto kind-of-girl, or opt for a classic wedge, height is needed in every girl's wardrobe.
A new style known as the flatform has made a comeback in modern, more updated versions. I'm slowly getting to know this new style as it always takes me a while to warm up to noticeably different trends.
I love the pair I found at Foxtrot with a cute ankle strap and navy suede exterior, not to mention they are super comfortable. Elizabeth paired these with a navy striped shirtdress. These ankle strap flatforms would pair well with dresses and shorts.
Boots
As mentioned before, a good solid fall shoe wardrobe should be stocked with a riding boot, an ankle boot and a pair of work boots.
Let me break each of these down for you. A riding boot is usually a flat style that goes either up to the knee or over the knee. Ankle boots hit just below, just above or right at the ankle, and they are either flat or have a chunky heel. Last but not least, a work boot is a modern, more sophisticated version of an actual rugged work boot. They are a lace-up style and sometimes have added detail like zippers or foldover features.
Elizabeth and I spotted a work boot that was right on trend for fall. It was in the perfect yellowish shade for fall with a zipper detail and a super comfortable fit. She also paired these with a striped dress to balance out the femininity. Pairing work boots with feminine pieces can create a fun and unexpected outfit.
You can also tuck your skinny jeans into them with a simple top, or throw on a dress and tights with them as the temperature drops.
Their added features make them unique because one day you can lace them up all the way, but another day you might only lace them up halfway to create a completely different look.
These also can be folded over on the sides so they can hit at different heights of your ankle.
— Emily and Elizabeth Kennedy are twin sisters and fashion bloggers who share a blog called Fashion Column Twins. They can be reached at fashioncolumnblog@gmail.com.
Copyright 2018 The Lawrence Journal-World. All rights reserved. This material may not be published, broadcast, rewritten or redistributed. We strive to uphold our values for every story published.