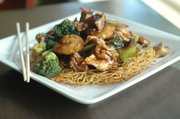 Most any noodles, any way, are tasty and satisfying. But some are more fun than others, namely if they're shaped and fried to form a thick, crispy nest for the rest of the food on your plate. The Bird's Nest Noodles at Encore Café come topped with a heaping helping of shrimp, beef, chicken and vegetables stir-fried in a rich brown garlic sauce.
Where to get it: Encore Café, 1007 Massachusetts St.
What you'll pay: $10.25
Try it with: Bubble tea. Encore Café has a variety of flavors, from taro to lychee.
Also on the menu: About a dozen other Asian noodle dishes, gyoza (potstickers), rice dishes in bamboo pots, Bento Boxes and entrees — from common Chinese favorites to more unique offerings like Black Pepper Short Ribs and Mango Shrimp.
Copyright 2018 The Lawrence Journal-World. All rights reserved. This material may not be published, broadcast, rewritten or redistributed. We strive to uphold our values for every story published.