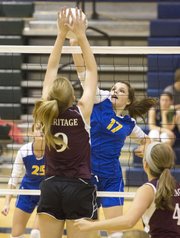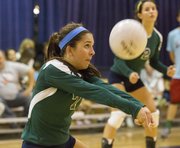 The Veritas Christian volleyball team defeated Heritage Christian and Seabury Academy in a triangular on Tuesday at Seabury.
Veritas swept Heritage, 25-20, 25-15, but was taken to three sets by host Seabury, 25-11, 20-25, 25-21.
The Seahawks also went three sets with Heritage, winning 25-19, 17-25, 25-17.
Veritas (11-4) was led by Teri Huslig's 3 aces, 33 kills and 10 assists. Lacey Billings added 5 blocks, 9 kills and 24 assists for the Eagles.
Taylor Hodge tallied 6 aces, 30 digs and 6 kills for Seabury (3-8). Ellen Almanza led the Seahawks with 12 kills to go with 10 digs. Reilly Malone added 8 kills.
Seabury will play on Friday at home. Veritas travels to Salina on Saturday.
Copyright 2018 The Lawrence Journal-World. All rights reserved. This material may not be published, broadcast, rewritten or redistributed. We strive to uphold our values for every story published.