Free State High's boys soccer players too often were more coy than confident Tuesday night against Shawnee Mission West, and their reluctant approach didn't do them much good at home, in their Sunflower League opener.
Photo Gallery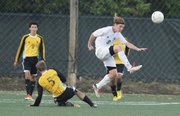 Free State soccer v. Shawnee Mission West
Images from Tuesday nights soccer game between Free State and Shawnee Mission West
The Firebirds hesitated on possessions through most of their home match, and by the time they became more bold in the waning minutes, the Vikings had gained control, and held on for a 2-0 victory.
FSHS coach Kelly Barah, frustrated by his team's inability to play as the aggressors, said they shouldn't have spent so much time on the defensive half of the field.
"I think we're so confident with our passing that we just kept on passing it backwards, trying to possess it," Barah said, "instead of trying to find a forward's feet and then working it from there."
SMW (2-5) didn't shrink away from offensive chances, especially early on, putting six of its eight shots on goal in the first 40 minutes.
Vikings senior midfielder Martin Higgins scored on a free kick in the 38th minute after Free State senior Josh Hodge picked up his first of two yellow cards.
Once SMW freshman Cesar De La Rosa flicked the ball over Firebirds junior goalkeeper Tyler Bryant (five saves) in the 52nd minute, the Vikings' offensive mentality wore off.
The problem for the Firebirds (2-1) was they never showed similar sureness in their offense until they found themselves in a two-goal deficit.
In the first half, FSHS sophomore Ernesto Hodison put a shot on goal, and sophomore Will Laufer nearly had a shot slip through traffic, but nothing else materialized because of Free State's lack of attack.
In the second half, Free State's AJ Ware and Eduardo Carballido tested SMW goalkeeper Cristo Ramirez and had no luck.
Senior Free State midfielder Alex Trent, still recovering from some sprained ligaments in his left ankle that kept him out of the team's season opener, said the Firebirds had no business waiting to assert themselves after possessing the ball well in the back.
"Once we try to get up, our attacking third, our connection from here to there is just poor," Trent said. "You look at the good teams, they possess all the way up the field. We possess to the midfield and then try to play long balls. It just doesn't work."
Laufer, who had three shots soar high over the goal during Free State's late-game flurry that produced 10 second-half shots (compared to five in the first half), said FSHS will need to change its offensive mindset.
"When our center-mids got the ball from the defense, we didn't turn and look to drive at their defenders as much," Laufer said, "and players weren't making the slashing runs we want them to make."
Any kind of rally Free State hoped to muster got far more difficult in the 59th minute, when Hodge received a second yellow card for a deliberate foul, forcing FSHS to compete with 10 players, instead of 11.
Barah said he doesn't want his team playing with too much emotion.
"Once you already have a yellow card," the coach added, "you have to be on high alert, and I think he should've been in that situation."
Still, Trent said the Firebirds had their chances.
"It's pretty disappointing," the senior said, "because I should've finished a couple. We all should have had some more goals."
The Firebirds play host to Shawnee Mission East at 6:30 p.m. on Thursday.
Copyright 2018 The Lawrence Journal-World. All rights reserved. This material may not be published, broadcast, rewritten or redistributed. We strive to uphold our values for every story published.