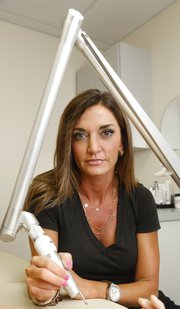 You contemplated it for a while and eventually decided to go for it. You took the plunge and got a tattoo.
If you've come to regret that serpent across your back, soon a Lawrence business will be able to make it vanish.
Aestheticare MedSpa, 3510 Clinton Place, has purchased a Medlite C-6 laser through Cynosure. The laser is specifically designed for tattoo removal and Aestheticare will begin treating patients next month.
"When we opened our doors in 2012 we initially got a lot of calls (about tattoo removal) so we started keeping track of how many calls," said Dr. Kathy Gaumer, spa co-owner. "When we reached a certain level, we thought, 'this is something we know there's a need for.'"
Gaumer's business partner Shea Pritchard, an aesthetician, said that the business had received calls from people wanting to get rid of their tattoos for jobs or because they weren't in their right mind when they got them. A number of parents were calling in about having their children get tattoos removed as well.
"The laser is a huge investment for a small clinic, but we saw the need and went for it," Pritchard said.
Gaumer said the laser works to remove tattoos by using different wavelengths to treat various colors. The beam shatters ink particles within the skin. Then the body can reabsorb the small particles and get rid of them through the bloodstream.
Shonn Tew, a registered nurse at the spa, said the individual appointments for the tattoo removal will be quick. When the patient comes in, the laser will be traced over his or her tattoo. Depending on the size of the tattoo it may take longer, but for the most part it lasts less than a minute.
The overall process of having the tattoo removed isn't as easy. Patients have to receive five to 20 treatments to completely remove a tattoo. Depending on where the tattoo is or how it heals, patients have to wait four to six weeks between treatments to allow the skin to heal. That means no getting rid of a tattoo for next week's job interview.
Other factors such as the color, age and depth of the tattoo can affect the number of treatments necessary for removal. The only tattoos that cannot be treated are those with white ink because there is no color pigment for the laser to sense.
Cost varies based on the size of the tattoo but in general ranges from $100 to $500 per treatment. So far that hasn't dampened potential customers' enthusiasm.
"I think that's how most people are, they just want it off," Pritchard said.
Copyright 2018 The Lawrence Journal-World. All rights reserved. This material may not be published, broadcast, rewritten or redistributed. We strive to uphold our values for every story published.