Education news
Have a story idea?
Contact Journal-World education reporter Elliot Hughes:
ehughes@ljworld.com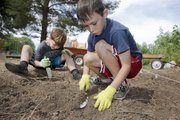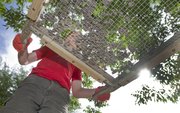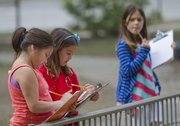 Next spring, architects will start drawing plans for a nearly complete remodeling of Pinckney school, one of the oldest school buildings in Lawrence, as part of the school district's effort to make all schools ready for "21st Century learning."
But for now, some students at the school are more focused on the 19th Century and what their school was like when it was first built in 1872.
With hand trowels, a couple of wagons and some large screen sifters, second and third grade students at Pinckney have literally been digging into the past, looking for archeological traces of that original building, and clues to what life in Lawrence was like in that period.
"It was awesome," said Thomas Rupp, a second grade student involved in the project, shortly after taking part in the dig Friday morning. "We're just trying to find stuff from the old Pinckney school."
So far, he said, he and his classmates had found some rusty nails, as well as pieces of old brick, mortar and concrete.
"And I don't know what it is, but we found a giant, rusty piece of metal," he said.
Preserving history
Rupp's teacher Sharon Daniels came up with the idea in 2007, when the current Pinckney school was getting ready to celebrate its 75th anniversary.
With a grant from the Lawrence Schools Foundation, she and other teachers spent a few days that summer on a dig with the Kansas State Historical Society, learning the process and methods of archeology.
"Then we came back to school, and that fall, what we were looking for was evidence of that original building that stood there," Daniels said. "I had written up a lot of goals — a lot of reading, social studies, writing, math, science. It hit everything."
This year, Daniels said she wanted to do the project again, in part because of the upcoming expansion and remodeling project.
"By next year, they're going to be remodeling our building," Daniels said. "They'll be taking it apart. So I thought this might be a good year to do it again, before they actually get in here and reseed the grass and everything."
Original school
Daniels said original Pinckney school was a simple two-story, two-classroom building that stood immediately south of the existing structure at Sixth and Mississippi streets. At that time in the 1870s, she said, Sixth Street was a curvy dirt road called Pinckney Street, which was named after Charles Coatesworth Pinckney, a Revolutionary War veteran and a delegate to the Constitutional Convention of 1787.
A few additions were made to that building over the years, and in 1931 it was demolished to make way for the existing building.
Carol Laskowski, a third grade teacher who is also involved in the project, said students have also found deposits of coal ash and unspent nuggets of coal, from the days when the school was heated by a coal furnace.
"They've found different kinds of metal pieces," Laskowski said. "One of the girls found a .22 caliber bullet. It looked like a dropped bullet because it still had the shell and everything with it. I think those came of age, I guess they started to have those in the late 1800s."
Multiple lessons
Daniels and Laskowski said the project helps tie together lessons from nearly every subject area.
The students first map out the area they are going to dig, dividing the area into quadrants, labeling them A-1, A-2, B-1 and B-2. Then they go outside and use stakes and string to mark off the actual quadrants to match their map.
The students work in teams, with some students digging and shoveling dirt into a wagon, other students pulling the wagon to a place where its contents are sifted, and other students operating the wood-frame screen sifters.
As they find objects and artifacts, students use descriptive writing to document what they found and where they found it.
"And when they find something, as part of science, they make a hypothesis about what it might have been used for," Laskowski said.
The core of the project, though, is a social studies lesson about the history of Lawrence.
"So really," Laskowski said, "what better way to build excitement about a unit than to be able to get out and dig and look for the possibilities of what might have been here during the different time periods of Pinckney and the Pinckney neighborhood and, of course, of Lawrence."
Copyright 2018 The Lawrence Journal-World. All rights reserved. This material may not be published, broadcast, rewritten or redistributed. We strive to uphold our values for every story published.