Photo Gallery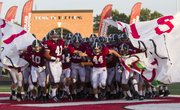 Lawrence High football vs. Shawnee Mission East
Summary
SME LHS
First downs 21 9
Rushes-yards 48-308 30-62
Passing yards 116 69
Total offense 424 131
Return yards 76 98
Fumbles-lost 8-4 2-1
Penalties-yards 1-15 7-55
Score by quarters
SME 6 20 0 0 — 26
LHS 3 0 0 0 — 3
Individual statistics
Rushing
SME: Luke Taylor 22-157, Christian Blessen 9-128 2 TD, Mitchell Tyler 4-15, Sam Huffman 6-15, Micah Dodson 1-10, Collin Wendel 1-3, Team 5-minus-20.
LHS: Drew Green 14-48, Kieran Severa 2-10, Alan Clothier 2-6, J.D. Woods 4-3, Nyle Anderson 8-minus-5.
Passing
SME: Blessen 6-13-116 2 TDs, interception.
LHS: Anderson 12-23-69; Clothier 0-2-0.
Receiving
SME: Tyler 1-76 TD, Alec Dean 4-38 TD, Taylor 1-6, Dodson 1-2.
LHS: Zay Boldridge 11-74, Adam Hayes 1-0, Green 1-minus-5.
HOW THEY SCORED
First quarter
5:58 — Ellis Springe 40 field goal. (LHS 3, SME 0.)
5:28 —Christian Blessen 56 run. Colin Burns kick no good. (SME 6, LHS 3.)
Second quarter
10:48 — Christian Blessen 5 run. Colin Burns kick blocked. (SME 12, LHS 3.)
4:24 —Mitchell Tyler 76 pass from Christian Blessen. Colin Burns kick. (SME 19, LHS 3.)
:04 — Alec Dean 10 pass from Christian Blessen. Colin Burns kick. (SME 26, LHS 3.)
-->
-->
Try as he might, Lawrence High football coach Dirk Wedd couldn't simulate in practice the type of overpowering linemen his team would be facing in Friday's 26-3 loss to Shawnee Mission East at LHS.
"They came right out and punched us in the mouth," Wedd said. "Our young kids didn't handle it very well, but they grew throughout the game, and that's a huge positive."
Shawnee Mission East's dominance in the trenches was noticeable in nearly ever statistic.
The Lions mustered just 2.1 yards per carry, rushing 30 times for 62 yards. Meanwhile, East notched 308 yards rushing on 48 carries with a pair of 100-yard rushers.
"They weren't as big as Olathe South (last week), but they just had some guys that refused to stop," LHS running back/linebacker Drew Green said. "They went every single play. They kept you on your toes."
The Lions (0-2) actually took an early lead before East gained control.
Following a grinding, 11-play drive, Wedd sent out junior kicker Ellis Springe for a 40-yard field-goal attempt on fourth-and-nine.
The junior, who told his coach before the game that his range was in 40 to 42 yards, knocked through the kick with plenty of distance, giving LHS a 3-0 advantage midway through the first quarter.
The lead wouldn't last, though.
East scored touchdowns on four of its last five first-half possessions, creating confusion and also fatigue with its hurry-up, option-based run game.
Lancers' QB Christian Blessen came through with big plays when his team needed them. He had a 56-yard rushing TD run to make it 6-3, then later — on a third-and-seven — found Mitchell Tyler behind the secondary for a 76-yard score.
With just 4.6 seconds left in the half, Blessen also hit receiver Alec Dean in the back of the end zone for a 10-yard TD, pushing the Lancers' lead to 26-3 at the break.
"In the first half, we weren't as physical as they were," LHS receiver/defensive back Zay Boldridge said. "The second half, we started to step up and realize what was going on. We just started to be as physical as them, and we shut them down."
The Lions held the Lancers (2-0) scoreless after the break with help from turnovers. LHS recovered three second-half fumbles, with Matthew Weiss, J.D. Woods and Price Morgan coming away with recoveries.
Still, LHS struggled offensively. The Lions finished with just 131 total yards while averaging 2.4 yards per play.
"We knew coming into the season we had some huge question marks on a whole bunch of guys who had not had any experience," Wedd said. "Tonight was even more of the bullets flying than last week."
Boldridge caught 11 passes for 74 yards.
Things won't get any easier for Lions next week, as they travel to face defending 6A champion SM West on Thursday.
"I love this group. We're going to be a good football team before the season's over," Wedd said. "I'm kind of wanting to get it going a little faster than what it is right now."
Copyright 2018 The Lawrence Journal-World. All rights reserved. This material may not be published, broadcast, rewritten or redistributed. We strive to uphold our values for every story published.