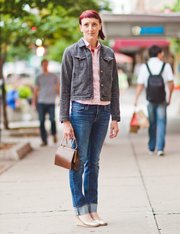 Name: Kristan Hanson
Age: Thirties
Relationship status: Married
Hometown: Chicago
Time in Lawrence: One month
Occupation: I'm a Ph.D. in art history at KU.
Dream job: To teach art history at the college level
What were you doing when scouted? Meeting up with some friends
Describe your style: Eclectic with a mix of vintage and contemporary
Fashion trends you love: I like fashion that expresses identity.
Fashion trends you hate: Pajama pants as clothing
Fashion influences: Art and television shows like "Mad Men"
What would you like to see more of in Lawrence? Quirky small businesses and public mural paintings
Less of? Chiggers!
Tattoos or piercings: Pierced ears and a tattoo of an ivy leaf.
Whom do people say you look like? No one comes to mind.
What type of music do you unwind to:  I like electronica or ambient music like Radiohead.
Tell us a secret: Some people say that I was Olga Spessivtseva in a past life.
Copyright 2018 The Lawrence Journal-World. All rights reserved. This material may not be published, broadcast, rewritten or redistributed. We strive to uphold our values for every story published.