The Douglas County Master Gardeners are bringing home the gold from the International Master Gardener Conference this week.
The local organization is being recognized in a Search for Excellence program that spans Master Gardener groups in the United States and Canada. The recognition is for their volunteer work with Monarch Waystation No. 1, a pollinator garden designed as a replicable model and functional habitat for Monarch butterflies and other pollinators.
Established in 2004, Monarch Waystation No. 1 has served as a model for more than 7,200 pollinator gardens in North America. Many of the gardens serve as community gardens or are located at schools, nature centers, retirement homes, places of worship and recreational facilities where they may reach as many people as pollinators. A large percentage of the Monarch waystation gardens are also at the private residences of adults and children concerned about the plight of the Monarch butterfly. My garden is registered as Monarch Waystation No. 7032.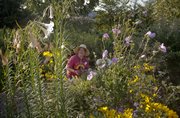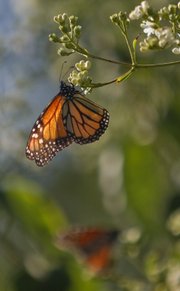 You can visit Monarch Waystation No. 1 on Kansas University's West Campus near Foley Hall. The affiliated educational outreach program, Monarch Watch, is hosting an Open House there Saturday, September 14, from 9 a.m. to 2 p.m. You can also stop by anytime, but evenings and weekends are best because of campus parking restrictions, but there are meters nearby for short-term visitors.
Information about how to create a pollinator garden of your own is available on the Monarch Watch website, monarchwatch.org, under "Butterfly Gardening." The key is including plants that provide food for butterfly larvae as well as planting flowers that attract the prettier adults. You can also register your waystation through the Monarch Watch website.
Need for the garden and waystation program spurred from the research of Professor Chip Taylor, who runs Monarch Watch. Taylor says about 6,000 acres of wildlife habitat are lost to development each day (about 2.2 million acres per year). Although Monarchs are large and recognizable, the lost habitat threatens the existence of many species of insects vital to our existence.
Douglas County Master Gardeners worked with Taylor in development of the garden and continue to partner with Monarch Watch for educational outreach. The partnership is unique in school rivalries as well with Monarch Watch's affiliation with KU and the Douglas County Master Gardeners' affiliation with Kansas State University's Research and Extension program (which has offices in every Kansas county).
Monarch Waystation No. 1, like any garden, is a labor in process. In the original development of the site, the garden was laid out in the shape of butterfly wings. The wings have mostly disappeared in expansion, as the garden is now more than 10,000 square feet. A rain garden was added in 2010-2012, to handle runoff from the pharmacy school development, as well as a prairie garden and sitting area that mesh the area with its surroundings and provide recreational space. Although many plants are labeled, Master Gardeners continue to work on labeling and creating resources to help others create their own waystations.
The Search for Excellence program recognizes Master Gardener projects in seven categories: youth programs, demonstration garden, workshop or presentation, community service, innovative projects, special need audiences and research.
In addition to the Monarch Waystation No. 1 demonstration garden, Douglas County Extension Master Gardeners maintain extensive demonstration gardens at the Douglas County Fairgrounds, at 2110 Harper St., and Tom Swan Park in Baldwin City. They also assist the public through their Horticulture Hotline and occasional classes/seminars.
They are at the Downtown Lawrence Farmers' Market with resources each Saturday and work with market vendors to get excess produce to the local pantry.
They also work with Boys and Girls Club to teach youths about gardening, and can be found providing education at many community events.

Copyright 2018 The Lawrence Journal-World. All rights reserved. This material may not be published, broadcast, rewritten or redistributed. We strive to uphold our values for every story published.