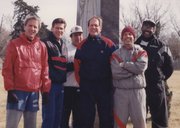 Kansas University's Department of Health, Sport and Exercise Sciences will host three races for children and adults Saturday for the fourth annual Dr. Bob Run at Rim Rock Farm, 2276 Burnett Lane.
The Dr. Bob Run honors the life of former KU Athletic Director and Health, Sport and Exercise Sciences lecturer Dr. Bob Frederick and serves as a fundraiser for the department's Dr. Bob Frederick Scholarship. After his death in 2009, Frederick's family created the scholarship for graduate and undergraduate students majoring in sports management.
Associate Professor of Athletic Training Phillip Vardiman, one of the run's organizers, said the annual event is a way to continue Frederick's mission of making a difference in the lives of students.
"It is always a great feeling to see the smiles on the faces of Dr. Bob's family at the end of the race every year," Vardiman said. "Dr. Bob lived a great life and we're trying to pay that forward."
Dr. Bob Run events will begin at 8 a.m. Saturday with the Hy-Vee 1 Mile Kids Run for kindergarteners through sixth-graders, followed by a 5k race for intercollegiate and open divisions at 8:30 a.m. An 8k run for intercollegiate and open divisions will finish the Dr. Bob Run races at 9:45 a.m.
The overall top male and female, top male and female in the masters divisions and the top three male and female finishers in each age category will receive awards. Teams can also compete in the 5k and 8k races, and will be judged by cross-country scoring rules.
Registration can be completed from 4 to 7 p.m. Friday for $25 at Garry Gribble's and for $30 Saturday from 7 to 8 a.m. at Rim Rock Farm.
Copyright 2018 The Lawrence Journal-World. All rights reserved. This material may not be published, broadcast, rewritten or redistributed. We strive to uphold our values for every story published.