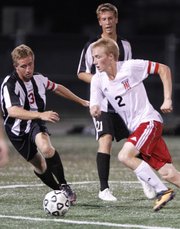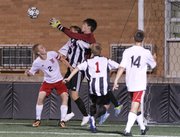 Close losses — especially those that come early in the season — don't have to be calamitous.
No one associated with Lawrence High's boys soccer team felt great Tuesday night after the Lions lost their home opener, 3-2, to Blue Valley West.
Still, the players and their coach, Mike Murphy, admitted taking some pride in the way they performed in the second half.
Although Cale Bertrand, Narito Mendez and Connor Henrichs put shots on goal before the break, LHS (1-2) trailed, 1-0, entering the second half.
Finally, Lawrence found its equalizer, less than a minute after halftime. Senior forward Hunter Kelley occupied Jaguars goalkeeper Eric Briscoe in front of the net as Bertrand ran toward the left post. With perfect timing, Kelley scooted a pass to Bertrand for an easy, game-tying score.
Murphy said the connection gave the Lions a boost of confidence.
"We know if we're down a goal, we can come back and tie it up, and then take it from there," the coach said.
That proved to be true after the Jaguars (4-1) regained a 2-1 lead shortly after Bertrand's goal.
Parker Davies drew a foul on the left side of the field, setting up a free kick in the 58th minute. Davies then sent a kick toward the left post for fellow senior midfielder Henrichs.
"He played a brilliant ball in," said Henrichs, who turned a header into a goal, and a 2-2 tie. "The ball was perfect, so I just barely had to get a touch on it, and it went in. Great ball."
However, Blue Valley West again answered in the 69th minute, when Jake Williams gathered a deflection in front of the net and sent it past diving LHS goalkeeper Andrew Ornburn (seven saves) for a decisive score.
Murphy said a breakdown set the Jaguars up to win, and some of that comes from the Lions' overall inexperience and not properly marking their opponents.
"We're not defending the ball real well in the air," he said.
Bertrand said the Lions (seven shots on goal) narrowed their focus in the second half, which they should be proud of, but BVW (10 shots on goal) ultimately outplayed them.
"That was a hard game," the senior said. "Since this was our first home game, we really wanted to get that win."
The most discouraging moment of the loss came with 6:09 left on the game clock. That's when Davies, one of the team's leaders, went down with a left-ankle injury and had to be helped off the field after spending a few minutes down on the turf, at times yelling out because of the pain.
Said Henrichs: "We just hope he's OK, and ready to go soon."
Murphy said the injury didn't appear to be a fracture, but Davies could miss a couple of weeks, depending on the diagnosis.
Whenever he is able to return, the Lions will at least feel more resolute, because of how they played against BVW.
"The first 40 minutes," Henrichs said, "we came out a little scared, I felt. It's not like anyone was weak, but some guys were timid. A lot of guys are new to this playing speed. Toward the end of the game, they all stepped up really well and we defended really well."
LHS plays next Sept. 17 at Olathe Northwest.
Copyright 2018 The Lawrence Journal-World. All rights reserved. This material may not be published, broadcast, rewritten or redistributed. We strive to uphold our values for every story published.