Photo Gallery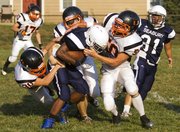 Bishop Seabury football vs. Uniontown
Bishop Seabury Academy fell to Uniontown, 58-22, as it opened its football season on Friday at home.
Uniontown led 44-6 at halftime.
Seabury's Joe Simpson rushed for 104 yards on six attempts and passed for 76 yards. Patrick Gutierrez ran for 60 yards on 11 attempts. Harley Holub had 40 receiving yards on two receptions.
The Seahawks (0-1) host Cair Paravel on Friday at home.
Uniontown 16 28 0 14—58
Seabury 6 0 8 8—22
S — Joe Simpson 2 run (run failed)
S — Patrick Gutierrez 10 run (run)
S — Harley Holub 30 pass from Simpson (Marcus Allen run)
Copyright 2018 The Lawrence Journal-World. All rights reserved. This material may not be published, broadcast, rewritten or redistributed. We strive to uphold our values for every story published.