Lawrence High School alumna Corinne Brinkerhoff has earned writing credits on some of the most successful TV shows of the last several years. And she gives much of the credit for her own success to the education she received while attending public schools in Lawrence.
"The fact is that growing up in a place like Lawrence and going to great public schools had a really big hand in making this career a possibility," she said.
Brinkerhoff was the keynote speaker this morning at the annual Lawrence Education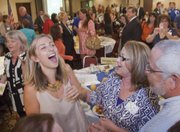 Community Breakfast, a fundraising event for the Lawrence Schools Foundation, a nonprofit organization that raises money to enhance educational programs in the Lawrence school district.
As part of David E. Kelley's production team, she was a contributing writer to the show "Boston Legal." She has also worked on on "The Good Wife", "Elementary" and a new program that will air on CBS in 2014, "Reckless."
"The fact is, I had all great teachers, I really did," Brinkerhoff said. "And I didn't realize that was a rarity until I got to Los Angeles where public school is this horrifying concept to most people. Most of my colleagues have private school pedigrees and their kids are all in private school, from kindergarten up. I know that there are advantages associated with that. But I totally stand by my public school education."
With a healthy dose of self-deprecating humor, Brinkerhoff talked about the improbable career path that took her from Lawrence to Hollywood.
After earning a bachelor's degree at Truman State University in northeast Missouri, she went on to graduate school at Boston University, where she earned a master's degree in television.
"Which I think we can all agree is the most specious sounding master's degree ever, and cheapens every other legitimate M.S.," she said. "So if anyone here has an M.S. in genetics or something, I'm so sorry. You were mapping the human genome and I was writing papers on 'The Simpsons.'"
But the friendships and connections she built there helped her land a job, first as an unpaid intern, at Kelley's production company. Eventually, she worked her way up the ladder and became a full-time writer.
"It's really a dream job, and if you had told me when I was a second-grader at Schwegler School that this was going to be my life, I would not have believed it," Brinkerhoff said. "But I would have been psyched."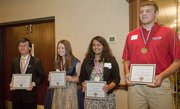 Susan Esau, executive director of the Lawrence Schools Foundation, said today's event raised nearly $60,000. Part of that money, she said, will be used to fund a new competitive scholarship program for LHS and Free State High School students who complete the district's course in entrepreneurship.
Also during the breakfast, Superintendent Rick Doll presented medals to four seniors in the Class of 2014 who were honored as "student champions."
Those awards are given each year to one male and one female student from each school's graduating class.
This year's winners were LHS seniors Puja Shah and Bryce Montes de Oca and Free State seniors Logan Brown and Lawrence Chen.
Education news
Have a story idea?
Contact Journal-World education reporter Elliot Hughes:
ehughes@ljworld.com
Copyright 2018 The Lawrence Journal-World. All rights reserved. This material may not be published, broadcast, rewritten or redistributed. We strive to uphold our values for every story published.