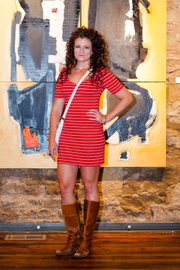 Age: 28
Relationship status: Dating
Hometown: Ottawa
Time in Lawrence: About 10 years
Occupation: I'm a graphic designer and owner of Design Brilliance Creative Marketing.
Dream job: Probably interior design and decorating
What were you doing when scouted? Listening to a band at the Cider Gallery
Describe your style: I like to look for good value finds and vintage items mixed with contemporary pieces.
Fashion trends you love: I really love sleek designs and the basics. You can always go with staple items.
Fashion trends you hate: I have a hard time with neon. Yup! It's also kind of a hard thing to go with red hair.
Fashion influences: Mostly from Pinterest. I always find ways to reinvent my closet from Pinterest.
What would you like to see more of in Lawrence? Um, probably more of a natural look. I know the '80s are really in, but I feel like the '80s are more of a synthetic look.
Less of? I just feel that Lawrence is all around good. Originality is really prevalent in Lawrence so it's a good place to be.
Tattoos or piercings: I have three. One is of Frida Kahlo. I'm really influenced and love her work and style of life. She was very influential in the feminist movement and she was a strong woman.
Whom do people say you look like? Recently, I've been told that I look like the singer Lorde! I don't know what her real name is but it's probably mostly because of the hair.
What type of music do you unwind to? Mostly, alternative. Other than that, some rap and mostly '70s/'60s rock.
Tell us a secret: A secret? I don't have any good secrets! ... Well, I'm really bad liar… so that makes it harder for me not to tell a secret!
Copyright 2018 The Lawrence Journal-World. All rights reserved. This material may not be published, broadcast, rewritten or redistributed. We strive to uphold our values for every story published.