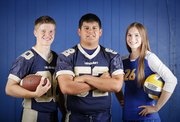 Veritas Christian School's fall sports teams have thrived the past few years, regularly competing for Kansas Christian Athletic Association state titles.
Both programs enter their seasons with new coaches and new marquee players.
Football
The eight-man football team at Veritas has played in the KCAA state championship each of the past three seasons.
That doesn't mean returning to that stage in 2013 is a hot topic for new head coach Blake Mudd, though.
"We've just got to get better every day," Mudd said. "We're not really talking about that."
The Eagles likely will stay mum about last fall's 8-3 record, too, but their key returning players know all about it. Senior receiver and defensive back Thatcher Martin, sophomore running back and defensive back Chad Stieben and sophomore lineman Ben Post lead a team adding lots of newcomers to the fold.
Mudd said senior Jesse Moore (lineman), sophomores Mark Weinhold (quarterback and defensive back) and Isaiah Garrett (receiver and defensive back) and freshmen Seth Hale (receiver and linebacker), Hayden Pine (lineman) and Michael Rask (receiver) will need to contribute immediately.
"Our biggest early challenge," Mudd said, "is that we are young, and we play a tough schedule."
Veritas begins its season at 6:30 p.m. Friday, when the Eagles play host to the Wichita Homeschool Warriors.
"We feel good about a fresh start this year with a new coaching staff and a lot of new players," Mudd said. "We also feel good about continuing to build on our rich tradition."
Volleyball
Last fall, almost no one could stop the Veritas volleyball team. The Eagles set a program standard for success with their 33-3 record and second KCAA state title in three seasons.
Whether Veritas can approach that realm of dominance in 2013 will depend on how the new team structure works itself out. Kyle Billings, who had previously coached the team four seasons, returns to the program this fall and will share head-coaching duties with Kim Swisher. They replace coach Mike Bartlow, who led the Eagles to their 2012 championship.
The names on the roster read a little differently, too. Senior Teri Huslig and junior Lacey Billings are the only two players back from last year's title team.
The Eagles' limited experience, however, doesn't discourage the coach.
"I feel good about any team that is led by Teri Huslig," he said. "We are a tight group of girls, starting two sets of sisters (freshmen Tori Huslig and Brienne Billings will join their older sisters as key contributors), with a good mix of veteran and young players."
In order to gain experience, the Eagles put two potentially tough early-season tournaments on their schedule: Saturday's season opener at McLouth and a Sept. 14 trip to Frankfort.
"The girls realize the other league teams will see us as the team to beat," Kyle Billings said. "With that in mind, we are preparing our team to win back-to-back championships."
Copyright 2018 The Lawrence Journal-World. All rights reserved. This material may not be published, broadcast, rewritten or redistributed. We strive to uphold our values for every story published.