Maybe it was because they hadn't played yet this fall, or the fact that one of their key teammates was out of the lineup, but Lawrence High's volleyball players never found the precision they needed against Blue Valley Northwest Tuesday night.
Photo Gallery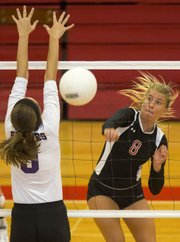 LHS volleyball vs. Blue Valley Northwest
Thumbnails · Gallery
Streaks of mistakes kept the Lions one or two steps behind as the visiting Huskies swept LHS, 25-14, 25-18, 25-13.
Lawrence coach Stephanie Magnuson said because BVNW played on Saturday, it put her team at a bit of a disadvantage in its season opener. Plus, the Lions didn't have the services of senior Caitlin Broadwell, whose absence was due to a health ailment.
"I think we were just trying to get our feet wet," Magnuson said, "and that put us a little bit behind the eight ball."
The Lions' biggest lead of the match came in the first game, at 8-4. Then the Huskies rattled off 14 straight points as their level of play skyrocketed and LHS misplayed digs, passes and sets.
"Blue Valley Northwest is a solid team all around," Magnuson said. "When a team like that gets on a run, it's hard to come back from."
Lawrence never led again the remainder of the match, and never scored more than three points in a row.
Sophomore middle blocker Caroline Dykes said the Lions didn't want the Huskies' hot streak to impact their psyche.
"It gets in our heads a lot, so we mess up," she said of slumping in the match, "and then we normally can get back in it if someone makes a good play and we all get excited."
LHS (0-1) had its moments in the loss. Marly Carmona, libero Jessica Lemus, Kyleigh Severa and Dykes all pulled off difficult digs, and Lemus, Dykes and Cienna Sorell came up with inspiring hustle plays. Still, BVNW never experienced the kind of ruts Lawrence did.
"They were really scrappy," Dykes said, "and knew the spots to hit."
Lemus, a senior, hoped a rally would materialize in front of the Lions' home crowd, and the players could use the Huskies' success as motivation. Neither ever happened.
"We just couldn't get into our groove," Lemus said. "We were just kind of down."
The senior thought the Lions played closer to their potential during the match's last few minutes. Dykes, Sami Buffalomeat and Kristen Gile all delivered kills in the last stretch of the third game.
"By then," Lemus said, "it was too late to dig ourselves out."
Magnuson said the Lions showed some versatility, and they will find the right combinations of players on the floor soon enough. Until then, they will learn from the mistakes of their debut.
"The things we talked about during timeouts and on the bench, they carried into the next point," the coach said of some positive takeaways. "They have a very fast learning curve. That's going to help us get to the end of the season."
The Lions (0-1) play Saturday at the Olathe South Tournament.
Copyright 2016 The Lawrence Journal-World. All rights reserved. This material may not be published, broadcast, rewritten or redistributed. We strive to uphold our values for every story published.