The next three days mark the beginning of the fall sports seasons at Bishop Seabury Academy, and athletes in all three programs plan to use last year's success as a step in the right direction.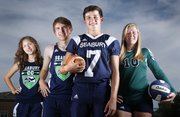 Cross country
The girls cross country program at Seabury took off the past couple of years, as the Seahawks won the Class 1A state championship in 2011 and finished second at a 2A regional last fall.
As coach Christi Douglas enters her sixth year leading the school's boys and girls programs, she and the girls would like to remain in the hunt for postseason success.
"It will be tough," Douglas added, "but I am hopeful."
Her optimism comes from the team's troop of leaders. Seniors Kate Albrecht and Eilish Gibson, as well as junior Addie Graham, all ran in the Seahawks' 2011 state title race. Douglas said senior Alicia Cotsoradis and freshmen Kayleigh Boos and Gretchen Ohlmacher should help the team, too.
The Seabury boys don't have the benefit of so much state success, but seniors Kit Rice and Thomas Westbrook will be back on the trails this fall, where newcomers junior Peter Shin and freshmen Hank Mitchell and Jack Edmonds will join them.
The season begins Saturday at Topeka Hayden.
Football
Seabury's eight-man football program is steadily growing after the school reinstated it last fall. This year, the Seahawks will play eight games, instead of six, as they ease their way toward a full nine-game schedule.
Despite a two-year absence from the gridiron, Seabury went 4-2 in 2012, and second-year head coach Aaron Combs knows what to expect out of his team's core of returning players. He said the Seahawks, led by senior linebacker and running back Marcus Allen, senior quarterback and defensive back Joe Simpson and linebacker and running back/receiver Patrick Gutierrez, feel positive about their chances because of their experience and what Combs described as a "great" summer in the weight room.
Junior linemen Austin Sanders and Jeth Brakenhoff and junior receivers and defensive backs Charlie Arnold and Harley Holub should help the senior leaders, as should sophomore lineman Glen Lemmon.
The speed of new additions senior Jacque Corbier and junior Bryce Copeland, Combs added, could provide Seabury with needed depth.
The Seahawks open at home against Uniontown at 5 p.m. Friday, but they're also looking forward to their Sept. 13 home game against Cair Paravel, which beat Seabury last year.
"The team is ready for that rematch on our turf," Combs said.
Volleyball
Seabury volleyball coach Chrissy Leuty isn't stressing out too much about losing some of the team's best players from last fall's 20-13 team that lost in a 2A sub-state semifinal.
"Even though we lost five seniors to graduation," she said, "we are coming off the best season in school history and have four returning lettermen."
Sophomore setter Ellen Almanza, who played outside hitter last season, leads that faction.
"She possess great volleyball skill and knowledge," Leuty said, "shows great leadership and is just extremely athletic."
Sophomore libero Taylor Hodge and junior middle hitter Reilly Malone (who missed most of last season) expect to give Seabury a lift on the floor with their know-how, too. Plus, Leuty said freshman Celia Taylor-Puckett could play just about anywhere on the floor, and her versatility should become an asset for the Seahawks.
"This team is young, but they are a very tight-knit group of girls," their coach said. "They have put in a tremendous amount of time this summer at camps, open gyms and weights."
The Seahawks' season begins today at a triangular at Onaga.
Copyright 2018 The Lawrence Journal-World. All rights reserved. This material may not be published, broadcast, rewritten or redistributed. We strive to uphold our values for every story published.