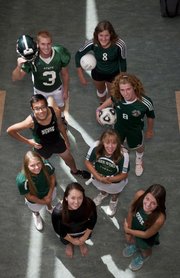 September is here and this week almost all of Free State High's fall sports teams start their seasons and find out how much all of their preseason practice work has paid off.
While some coaches embark on the fall excited about depth and experience, others are fitting new players into important roles.
Cross county
The most imposing factor facing Free State's cross country team this fall might be the early-season weather. Competing — and practicing — in the heat, coach Steve Heffernan pointed out, can exhaust runners. As long as the Firebirds survive scorching runs for a bit, everything should work out fine.
The girls have a strong senior class, led by Bailey Sullivan, Molly McCord and Rosemary Newsome. Plus, sophomore Claire Sanner, who ran for Lawrence High last fall, transferred to FSHS last year, and senior Sarah Whipple and freshman Emily Venters are expected to provide some depth.
"They should be able to make it back to state (something that eluded the girls in 2012)," Heffernan said, "and compete at a high level if the season goes well."
Free State's boys finished 10th at state and have a core group of juniors Ryan Liston, Cole Stallard and Thomas Becker, and sophomore Ethan Donley back this fall.
"As upperclassmen," their coach said, "they should be ready to take the next step."
The season begins Thursday at Olathe East.
Football
Free State's football team has all the ingredients a coach could hope for: speed, size and experience.
The Firebirds, who finished 10-2 last fall and lost in the Class 6A state semifinals to Shawnee Mission West, have seven key seniors back: safety Joe Dineen (the new starting quarterback), linebackers Keith Loneker, Blake Winslow and Stan Skwarlo, linemen Tyler Sampson and Reid Buckingham and tight end Zach Bickling.
Coach Bob Lisher, entering his 17th season with the program, foresees senior receiver and cornerback Khadre Lane and junior linebacker and running back Carson Bowen playing larger roles, while there is a long list of new regulars: junior linemen Shane Hofer, Scott Frantz and Josiah LeBrun, junior receivers and defensive backs Andrew Keating and Joel Spain, sophomore corner Bryce Torneden and senior linebacker Lucas Werner.
The team's most difficult test will come in a three-week span beginning Sept. 20. The Firebirds play Olathe East, followed by league favorite Shawnee Mission West and then Olathe North.
"When you have three of the top four back-to-back-to-back," Lisher said, "and then you follow that up with Shawnee Mission East, that's a pretty big challenge."
FSHS plays host to Shawnee Mission North on Friday.
Girls golf
Last fall, three Free State girls golfers advanced to the 6A state tournament. In his first year leading the program, new coach Layne Meyer would like to help the Firebirds improve upon that number.
Between the team's mix of experienced varsity players and some talented younger golfers, Meyer feels good about the season, and said the Firebirds have worked diligently throughout preseason rounds and practices.
Juniors Emily Bermel and Karen Campbell look to get back to the state tournament this season, and freshman Anne Goebel and the rest of the golfers aim to join them.
Before any of that happens, Meyer said the Firebirds will keep hitting the course and improving all they can.
"We are, of course, trying to work on every facet of the game to develop complete golfers," the coach said, "but have put an emphasis on the short-game play on and around the green."
The FSHS season begins Thursday, at the Shawnee Heights Tournament.
Gymnastics
In 2011, Free State won its second state gymnastics championship. Last fall, the Firebirds took second at state.
This year, first-year coach Brooke Kissinger and her gymnasts don't want to put too much pressure on themselves, but they aren't backing down from the challenge of maintaining the program's prominence.
"They want to keep the tradition going," Kissinger said, "and do just as well as they have in the past, and hopefully improve."
Senior Hannah Moran and juniors Grace Bartle, Carrie Howland and Haley Johnson all competed for FSHS at state in 2012, and their coach said the group helps the less experienced gymnasts make progress at practices.
"We have a lot of upperclassmen, which is nice," Kissinger said.
Sophomores Becca Moran, Holly Flitcraft and Kennedy Sullivan, junior Brooklyn Hayes, freshman Morgan Rohe and senior Lina Benguigui will compete to join the varsity lineup.
The Firebirds' season begins Sept. 12 at the Lawrence Invitational.
Boys soccer
Nearly midway through what had signs of becoming a promising season last fall, Free State's boys soccer team had won six of its first 10 games. The season-ending, seven-game losing streak that followed, however, left the Firebirds — who only scored three goals in that skid — eager to put 2012 behind them.
Coach Kelly Barah, headed into his fourth season with the program, thinks the team's six-player senior class should help the Firebirds get back to winning and playing at a higher level. This year's seniors are Chris Allen, PJ Budenbender, Josh Hodge, Nick Pippert, Alex Trent and AJ Ware.
Barah doesn't yet know which younger players will step up to help the team's leaders, but the process doesn't have him worried.
"We are enjoying the competitive nature of all the newcomers," the coach said. "We are very competitive and have shown a good work ethic so far."
The Firebirds have plenty of more practice time to keep gaining momentum toward the season opener, which doesn't come until Sept. 12 at Lansing.
Girls tennis
Free State girls tennis coach Oather Strawderman feels good about this season. His main source of encouragement comes from the "huge" amount of varsity experience the players can draw upon from last year.
Senior captain Alexis Czapinski, who finished sixth at the 6A state tournament in 2012, as well as juniors Megan McReynolds, Taylor Hawkins and Alyssa Raye and sophomore Caitlin Dodd — five of the Firebirds' six varsity members from last fall — return.
FSHS finished seventh at the Sunflower League tournament and fifth at a 6A regional, but the coach expects the veterans can accomplish more in 2013.
One Free State freshman, Strawderman added, could make the team even deeper.
"Natalie (Myers) has the chance to see some varsity action this year," he said.
The Firebirds' season begins Thursday at a quadrangular in Junction City, and their coach said the season's first challenge comes Sept. 14 at the Salina Central Invitational.
Volleyball
Only two varsity players are back for Free State's volleyball team this fall, after the Firebirds shared the 2012 Sunflower League title with Olathe East.
Senior middle blocker Morgan Knapp and senior outside hitter Grace Miller know what it takes to win, and that could go a long way for coach Nancy Hopkins' team.
"They should be scrappy and exciting to watch. They get along very well and are supportive of each other. They feel they are capable of going a long way into the playoffs this year," Hopkins said, adding the players expect postseason success every fall.
FSHS has three girls who could make immediate contributions as varsity newcomers, too: junior libero Paige Corcoran, freshman ousted hitter Emma Barberena and freshman right side hitter Naomi Hickman.
"The most important aspect as far as I'm concerned," Hopkins added, "they actually like each other. Not that other years haven't, but there's not one single attitude on this year's squad."
The Firebirds open their season Thursday at a triangular at Topeka Seaman.
Copyright 2018 The Lawrence Journal-World. All rights reserved. This material may not be published, broadcast, rewritten or redistributed. We strive to uphold our values for every story published.