Topeka — Former state Sen. Jean Schodorf today filed to run for Kansas secretary of state against incumbent Republican Kris Kobach in 2014.
Schodorf, who served in the Legislature as a Republican from Wichita but switched to the Democratic Party, was introduced by former Senate President Steve Morris, a Republican from Hugoton.
"We absolutely need someone with the integrity that Jean Schodorf has. She will put her heart and soul into being secretary of state to do an outstanding job for the citizens of Kansas," Morris said.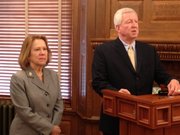 Both Schodorf and Morris were among a group of moderate Republicans who were defeated in the GOP primary in 2012 by those who supported Gov. Sam Brownback. Schodorf has since become a Democrat, while Morris remains a Republican.
Schodorf blamed Kobach for the current "voter registration mess" in which approximately 17,200 Kansans' registrations are in limbo because of the new law that requires proof of citizenship.
Kobach has said the law is needed to prevent undocumented immigrants from voting, but critics say it will suppress voting. In response to Schodorf's criticism, he said the law is "working exactly as the Legislature and I expected. Some people take their time completing their voting registrations and some don't."
Schodorf said Kobach had two years lead time to make sure voter registration ran smoothly and he "failed."
Schodorf said Kobach's attention to his job had been diverted by his work in other states pushing for stringent anti-illegal immigration laws. Kobach said he works on laws in other states on his own time, filing legal briefs from his home.
Asked if she thought her changing parties would be a negative, Schodorf said, "This year more than ever, we have seen what the far right extreme has done to the country. There is a group of people from both sides, Democrats and Republicans and independents who are in the middle, who want good government."
Earlier, Randy Rolston, a Johnson County businessman, dropped out of the Democratic race for secretary of state, citing health issues in his family, and he threw his support behind Schodorf.
Copyright 2018 The Lawrence Journal-World. All rights reserved. This material may not be published, broadcast, rewritten or redistributed. We strive to uphold our values for every story published.