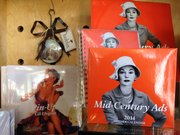 For anyone obsessed with "Mad Men," this might the perfect find for a holiday stocking stuffer. This Taschen hanging wall calendar is filled with 12 months of ads for cars, liquor, cigarettes, travel, movies and more, all from the height of 1950s America to the era glorified by booze and cigarettes on popular prime-time television. Other Taschen 2014 calendars include a Gil Elvren Pin-Ups and The Fairy Tales of Brothers Grimm.
Where to get them: hobbs., 700 Massachusetts St.
What you'll pay: $13.99
About the store: Founded in 1997 by Mark and Kathy Swanson (also own Spectator), hobbs. "the host of cool" is a lifestyle store that sells funny, entertaining, and engaging clothing for men and women, knick-knacks, household collectables and random other finds that the family business felt worthy enough to share. Some include "greeting cards that provoke," go-anywhere wine glasses and disappearing cheshire cat mugs (the cat image disappears when a hot beverage is in the cup).
While you're there: Ask what is special about anything in the store. An important aspect of hobbs. is that some products in the store are meant to create human interaction between the customer and a staff member. "You may not know why this cashmere sweater costs $300," says daughter Shauna Swanson. "It's $300 because it's a vintage Airmail scarf; it's one of a kind and was put into this sweater. So it's rock and roll, it's hip and no one else is going to have this. That's what makes it cool."
Copyright 2018 The Lawrence Journal-World. All rights reserved. This material may not be published, broadcast, rewritten or redistributed. We strive to uphold our values for every story published.