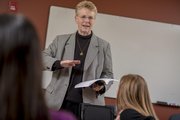 Baker University has tapped Tes Mehring, associate dean of Baker's School of Education and chair of the Graduate School of Education, to serve as interim dean of the School of Education for the 2014-15 school year.
Mehring will replace current education school Dean Peggy Harris, who recently announced she would retire in June 2014.
Mehring joined the university in 2012 after 33 years at Emporia State University. She played a large role in the creation of Baker's doctorate program in higher education leadership. As interim dean Mehring will focus on creating a master's program in student affairs administration as well as prepare the school for upcoming accreditation reviews.
Mehring will start in the position on July 1, 2014.
Copyright 2018 The Lawrence Journal-World. All rights reserved. This material may not be published, broadcast, rewritten or redistributed. We strive to uphold our values for every story published.