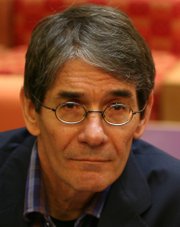 Pulitzer Prize-winning book critic Michael Dirda told a Kansas University audience Tuesday that the reason people should read is simply for the excitement.
"Everything else — wisdom, knowledge, theory, whatever — should come second," Dirda said. "If you're not excited by what you read, you shouldn't be reading [it]."
Dirda appeared at the Kansas Union to deliver the 2013 Richard W. Gunn Memorial Lecture, a series endowed by Richard Gunn, the brother of James Gunn, a KU professor emeritus and director of the Center for the Study of Science Fiction.
For much of his lecture, Dirda chronicled the trajectory of his professional life, beginning as a high school student struggling academically to his arrival at the Washington Post and his subsequent book-writing career.
Dirda won the Pulitzer Prize in 1993 for criticism and continues to write a weekly column for the Washington Post.
Dirda urged the audience to seek books beyond the best-seller lists and said people too often choose to read new releases at the expense of older books.
"Everyone seems to know the same 30 or 40 currently hot writers," he said. "You can talk to [students] about (Charles) Dickens, and they all read 'Great Expectations,' but if you talk to them about 'Bleak House' or 'Little Dorrit,' they won't know what you're talking about."
He also said he is not particularly interested in reading ebooks. Dirda argued that the "physical artifact" of a book is important and that when books come on a screen "they're all kind of alike."
"All sorts of information is conveyed by the physical book," he said.
Ed Quick, 73, of Lawrence, attended the event because he used to live in Washington, D.C., and read Dirda's work.
"His enthusiasm for books was just infectious, I think," Quick said of the talk.
Copyright 2013 The Lawrence Journal-World. All rights reserved. This material may not be published, broadcast, rewritten or redistributed. We strive to uphold our values for every story published.